Casa La Punta is a beachfront retreat located on the Pacific Coast of Mexico in Punta Mita. Designed by Elías Rizo Arquitectos to appease an unconventional couple who wanted to steer away from the typical style of Mexican beach houses.
The residence is pread out over three volumes that are connected by a wooden timber walkway throughout the property. There's an entrance volume that houses a double-height workshop, along with the service areas. The main volume is where the public and private sections of the house are contained.
This structure, the third, is an open terrace right next to the ocean.
The pathway to the sea…
Can you imagine soaking in this at sunset?
That's volcanic rock in the area between the two structures.
This entrance leads to two separate staircases – one goes to the master suite and the other to the two guest suites.
I'm pretty sure that is the tallest door ever – it's triple-height.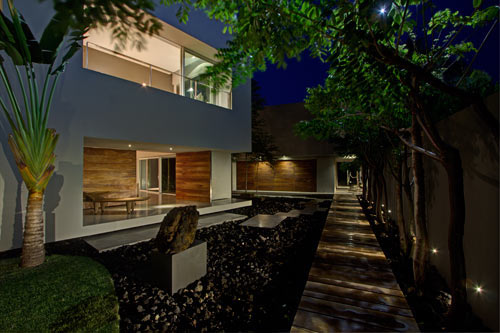 Photos by Marcos García.

Design From Around The Web