Celebrate the Rolling Fields of England Via the CROP Outdoor Collection
Celebrate the Rolling Fields of England Via the CROP Outdoor Collection
1/15 Photos
2/15 Photos
3/15 Photos
4/15 Photos
5/15 Photos
6/15 Photos
7/15 Photos
8/15 Photos
9/15 Photos
10/15 Photos
11/15 Photos
12/15 Photos
13/15 Photos
14/15 Photos
15/15 Photos
Outdoor furniture continues to climb in popularity this Spring, in part because so many of us have a newfound love of being outside after the past year. Design agency LAYER and outdoor furniture brand Allermuir have collaborated to create and release the CROP collection of chairs and stools that are characterized by their rolling forms. The CROP collection borrows its name from the rolling fields of the British countryside, represented in the chairs and stools through the parallel wires of their forms. Both brands involved in this collaboration, LAYER and Allermuir, are British, and we love this nod to their heritage.
For our first outdoor furniture collection we focused on capturing the spirit of the great outdoors and the language of the natural world to encourage al fresco dining, particularly in the current global climate. Due to the production methods and materiality, the collection is driven by strong graphic elements of mono-width lines traced around the furniture features.
– Benjamin Hubert, Founder, LAYER
This is the second collaboration between the two brands, but the first outdoor furniture designed by LAYER and the first metal outdoor furniture produced by Allermuir. An armchair, two dining chairs, with and without arms, and two stools, with or without a backrest make up the pieces of the CROP collection. A steel rod frame with slim welded wires make up the seats and backrests of each, while the slim cushions soften their graphic lines. You can expect a lot of great interplay between light and shadow as the sun moves across the sky throughout the day.
The CROP collection of outdoor seating is weatherproof in all conditions, and can be used in a variety of hospitality, commercial and residential settings. Both the chairs and stools are available with the option of removable seating pads for added comfort.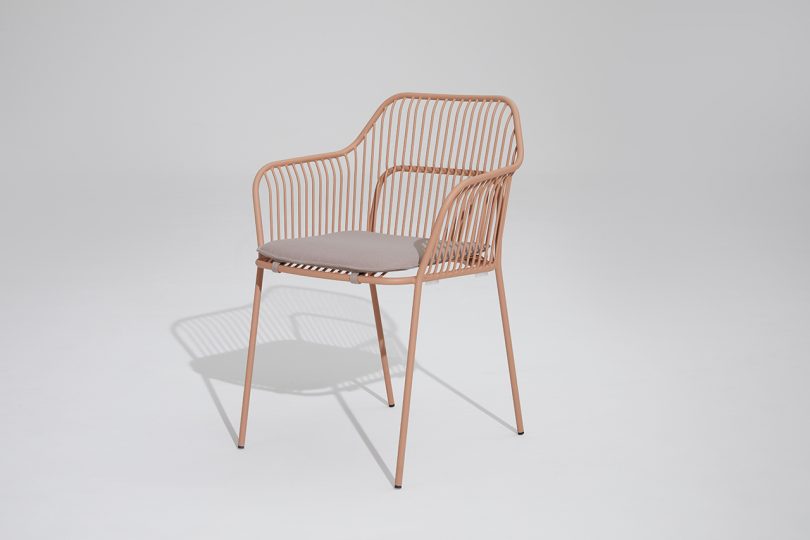 To learn more about the CROP collection, visit allermuir.com.