Located on Victoria's Mornington Peninsula (Australia), the Sorrento House is made up of a series of stepped pavilions that mimic the site's uneven topography. Designed by InForm, the project was built as a vacation home on the coast, broken up into different spaces, making it perfect for invited guests.
Outside of the main pavilion, there's a long wooded deck that spans to a neighboring pavilion, while also bridging the living room with the pool.
Under the main roof, there's the public living space, master bedroom, and a guest bedroom. A separate pavilion houses two additional bedrooms.
Floor-to-ceiling, sliding glass doors and windows open the living room, kitchen, and dining room to the outdoor space.
Light bricks, warm woods, and crisp whites create a modern look on the interior.
The same brick on the exterior shows up inside creating continuity. Blue and yellow were also brought into the living space to brighten things up.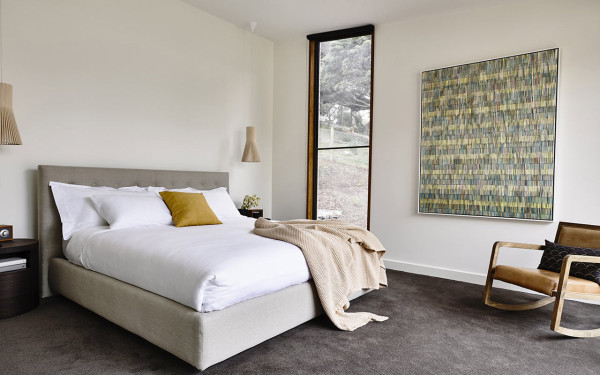 Photos by Derek Swalwell.
Styling by Heather Nette King.