Situated on top of the rocky Chilean coastline in Tunquen, about 50 meters above sea level, the Tunquen House hovers near the edge of the cliff with dramatic sea views. Designed by Nicolás Lipthay Allen of L2C, the single volume home is made of white concrete and is divided into three separate areas.
In the central main area, there's the living room, dining room, and kitchen, with the master suite being on one end and the children's and guests' rooms are at the other.
The location, with its powerful south wind, determined the design of the house. Right off the living room, they built a courtyard that helps provide a sheltered area away from the wind while still being able to spend time outdoors. The courtyard also provides an area for a garden and an outdoor dining space.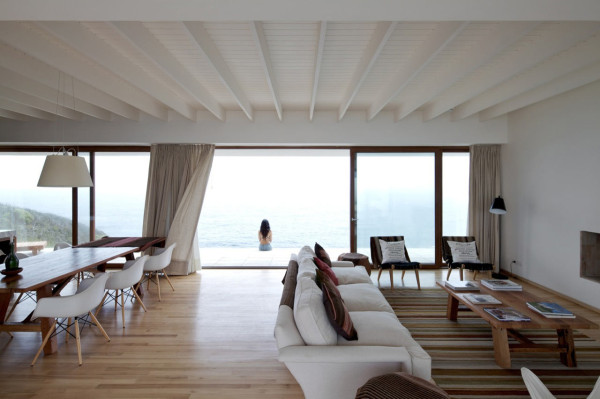 The other side of the living room has floor-to-ceiling sliding glass doors that open up to the ocean below. The glass expanse frames the incredible views.
A deck spans the length of the house expanding the square footage and dissolving the indoor/outdoor separation.
Photos by Nico Saieh.

Design From Around The Web