Color Therapy: Orange Crush From Walls to Wear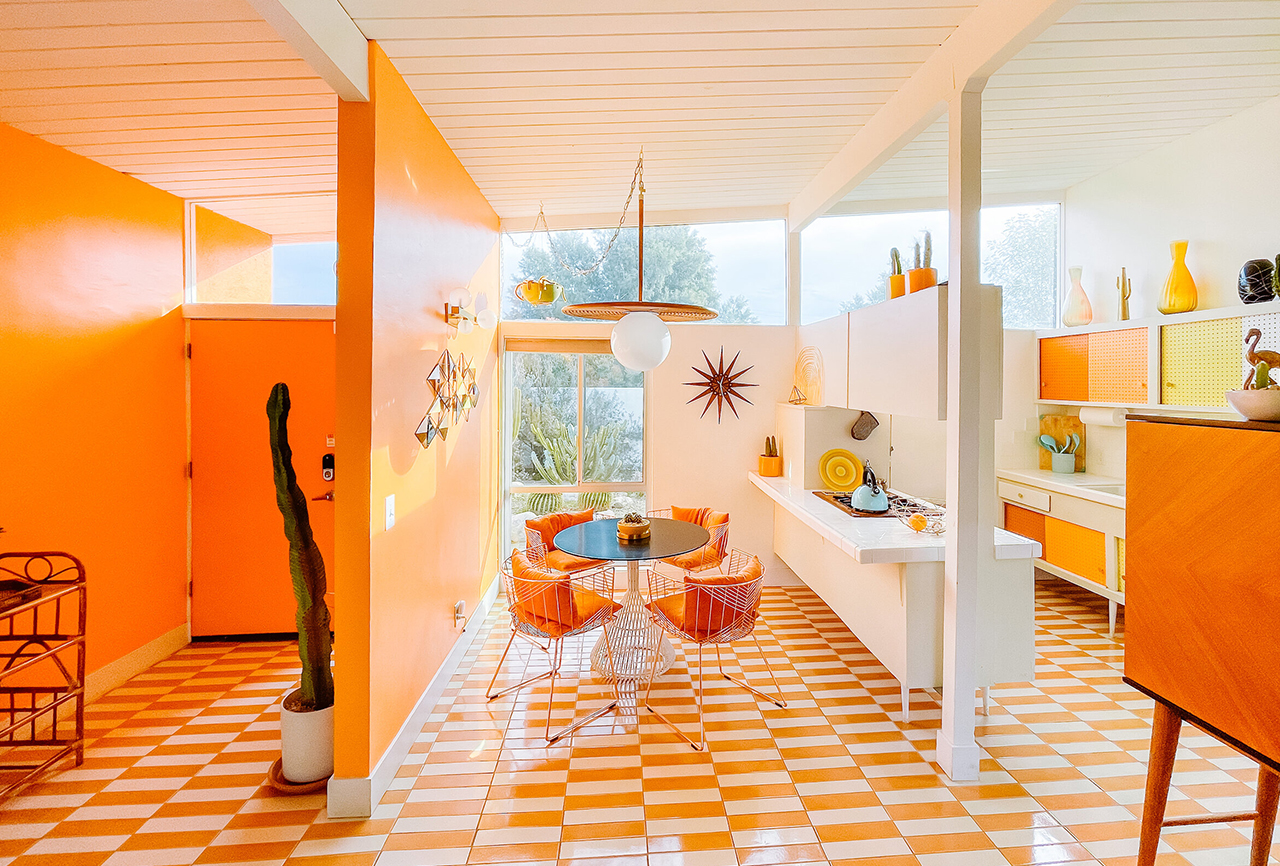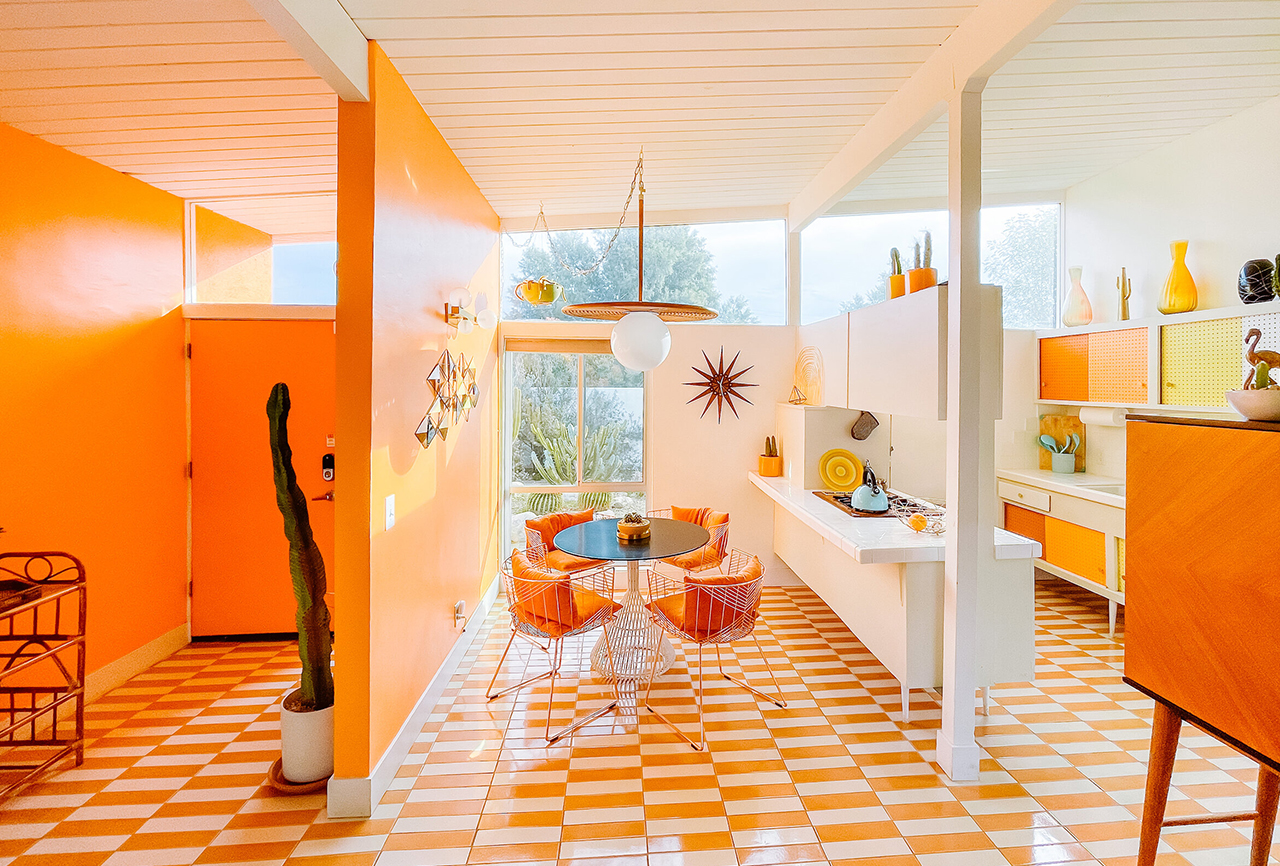 Color Therapy: Orange Crush From Walls to Wear
1/13 Photos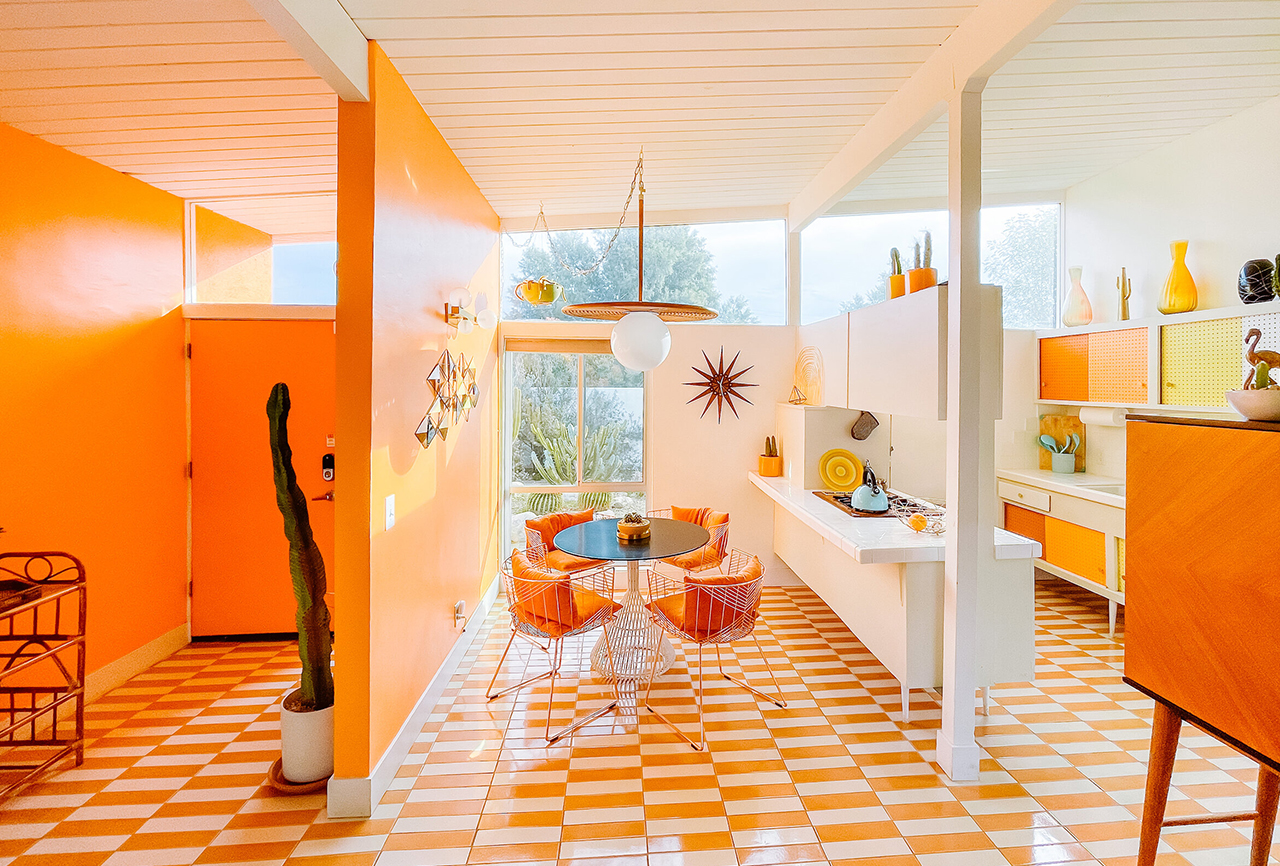 2/13 Photos
3/13 Photos
4/13 Photos
5/13 Photos
6/13 Photos
7/13 Photos
8/13 Photos
9/13 Photos
10/13 Photos
11/13 Photos
12/13 Photos
13/13 Photos
While I might be hard pressed to work it into a rhyme, orange is a color that works pretty much everywhere. It's a pleasant and positive hue that adds an air of warmth and playfulness to any room, outfit, or object. The "down to earth" one among its clique of bright and bold colors, orange never fails to catch your eye, but always in a welcoming, feel-good sort of way that doesn't hog all the attention. In interior decor, orange can go modern or retro, bright or neutral. Whether you turn up the volume with a hot tangerine shade, go soft with a variation of peach, or keep it casual with a muted terracotta, you can make orange your own. The same goes for your closet too – orange accessories instantly energize an outfit, and donning orange apparel just makes you happy in a way that's hard to replicate with other hues. If you're looking for more ways to work this dynamic, energizing shade into your life, we've taken the liberty of sharing some of our favorites.
Contrary to popular belief, orange walls don't have to look like a Nickelodeon set. Backdrop's Aperitivo Hour is an approachable, deep peachy orange shade that radiates warmth and good vibes. Use it as accent color in a predominantly neutral room, pair it with complementary cream or muted pink shades, or add depth with a bold, cool-toned hue.
$69 a gallon
Shop Now >>
Inspired by colored glass and the iconic color field paintings of Josef Albers, this new Happy Habitat throw blanket is a great way to introduce orange into your space. Featuring layered stripes in blush pink, orange, and golden yellow tones on a creamy neutral base, the Layers Throw marries color and pattern to spruce up your couch or bedspread. Even better, it's designed and made in the USA using a blend of plush upcycled cotton and recycled fibers for maximum coziness.
$185
Shop Now >>
To add a pop of orange to your every day, look to Projects Watches' burnt orange Grand Tour Watch. Inspired by renowned architect Michael Grave's tour of the great European monuments, the Grand Tour Watch features a modern, rectangular shape with a dual time zone watch face, perfect for jetsetters on the go. The only thing we love more than the bold orange watch band are the baby blue clock hands that deliver the perfect contrast.
$199
Shop Now >>
Anecdote's Hot Mess Candle spices up your space in more ways than one. First, the bold orange vessel label warms your coffee table or entryway. Then notes of cardamom, peppercorn, and pink berry seeds come together to diffuse a bright and fiery aroma throughout the space – for a fragrance that's fun, tart, and totally unique.
$26
Shop Now >>
To bathe your bathroom in a warm, sunshine-y orange glow, look no further than Quiet Town's best-selling Sun Shower Curtain. The heavyweight vinyl shower curtain can be used as a liner with any of the brand's canvas curtains but use it on its own and you'll marvel at the way it catches the natural light, creating an orange-tinted glow in your shower.
$38
Shop Now >>
This Issara Tote is a timeless and luxe way to work orange into your wardrobe. Handcrafted using finely milled full grain leather, this tangerine orange tote has a roomy interior spacious enough for a 16" laptop, and two interior pockets for your phone and other essentials. Polished metal feet keep the base of the bag protected, and extendable side walls allow you to switch up your look whenever the mood strikes.
$340
Shop Now >>
Handmade and wood fired in Cloud 9 Clay's Philly-based studio, this Wood Fired Tumbler stars tactile ridges and a mesmerizing hot orange gradient that makes your morning tea or matcha all the more special. Even more impressive, the tumbler's seamless gradient glaze is hand painted, the circulating wood ash within the wood burning kiln giving it a dynamic, one-of-a-kind finish.
$85
Shop Now >>
The warm amber tint on KINTO's iconic Sepia collection strikes the perfect balance between retro and modern aesthetics. The tumbler's gently curved shape and subtle pillared bottom make it comfortable to hold and a stylish addition to your kitchen cupboard. Whether you're drinking hot coffee, iced tea, juice, or water – count on it being infinitely more enjoyable with the Sepia Tumbler in hand.
$17
Shop Now >>
Handcrafted to order by combining layers of linen fabric into fringed stripes, this burnt orange throw pillow brings a depth and boho texture to your couch, armchair, or bedspread. Use it as an accent pillow to add a splash of orange to a neutral space, or pair it with like-colored throws and decor for a satisfying mix of textures and a monochromatic moment.
$135
Shop Now >>
To bring the feel-good, playful energy of orange to your workspace, check out the Equo Desk Lamp. The sleek, ultra-modern (and award-winning) lamp features a counterweight design that allows you to effortlessly adjust its position with a light touch of a finger. Complete with a touch sensitive strip for easy dimming and light control, the architectural Equo Lamp immediately brightens up your office with its fun orange color.
$319.50
Shop Now >>
This curvy candle holder is a whimsical way to add a punch of orange to your home decor. Made by hand in Extra&Ordinary Design's North London studio, this candle holder's bright tangerine orange color brings instant personality to any room in the house. We recommend coupling it with an equally colorful tapered candle for added vibrance, but you can always style it solo as a sculptural statement too!
$103
Shop Now >>
New to the Design Milk Shop, these colorful shades pull inspiration from 1960s folk rock icon Bob Lind, fulfilling our retro folk fantasies. Round, dark orange frames and matching tinted lenses make these statement sunglasses the star of any outfit. Designed in Carla Colour's New York studio and expertly crafted in Italy, these fashion-forward sunglasses are sure to be fast favorites.
$225
Shop Now >>
Shopping any of our orange favorites? Share your haul and tag us @designmilk to be reposted on our Instagram!