While most communications agencies are part of a larger, international group, the New York City BGB Group is privately owned, which means they can control how their colorful personality can come through via their TPG Architecture-designed offices. Working with managing partners, Gregory Passaretti and Brendon Phalen, TPG Architecture designed the new space to reflect their personality with bright colors, themed conference rooms, and other details that are bound to make their staff happy to come to work everyday. Besides making their current employees happy, BGB wanted to entice new hires and the clients they worked for, most of which are pharmaceutical companies that work in suburban New Jersey, making the colorful and quirky new space fun for them to visit.
Spanning over two floors and 47,000 square feet, BGB has approximately 215 employees that work in the SoHo location. The offices include: two kitchens, three phone rooms, the "New York" flex conference room that accommodates up to 22 people, three medium-sized conference rooms that double as billiards rooms, and seven small conference rooms that hold 4-6 people, each of which are named and designed after a local street – Prince, Greene, Grand, Spring, Broome, Orchard, and Bond.
The offices came with all the classic Soho details – wooden floors, high ceilings, columns, brick walls, and large windows around the perimeter – which TPG kept and layered modern elements throughout.
The lounge area feels like a living room with a flat-screen TV, a non-working fireplace, plaster-cast animal heads, mid-century furniture, and of course, the zebra, because every office needs a life-size zebra, right?
Other fun details? A long table acts as the reception desk, which becomes a DJ's turntable on one side and has beer taps just a few feet away.
The Orchard Street conference room is decorated with metallic banana wallpaper from Flavor Paper.
The library offers a quiet place for employees to work and has bright yellow bookshelves, bold blue chairs to sit in, a graphic black and white rug, and oversized Fontana Art dome pendant lights.
In the Green Street conference room, there's a feature wall decked out with a mosaic made from 3″ wooden squares cut from skateboards.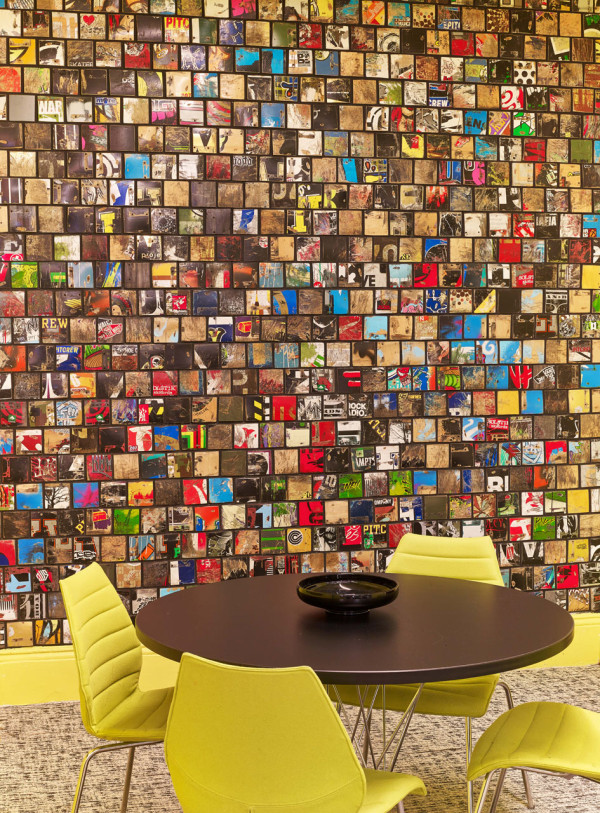 The largest conference room, New York, can be divided into two smaller rooms by a clear garage door.
Original details, like this solid steel fire door above and the anchor graffiti below, were discovered during the demolition phase.
More Flavor Paper wallpaper in the bathroom – this time an Andy Warhol shoe print.
Photos by Eric Laignel.