Wing is one of the shapes in the Bolon Studio collection from Bolon, which are contemporary woven vinyl floor tiles that let you create you own custom look. For this look, they mixed several neutral gray tiles with a super bold yellow creating a dynamic visual in this room.
Black and white Céragrès Mix and Match porcelain tiles were used in this bright room full of natural wood and white details. The monochromatic tiles, with and without patterns, become the artwork in the room.
These TexTile Vinyl Composition Tiles (VCT) from Johnsonite might be made for commercial use, but they'd totally work for residential as well, especially in a kitchen or playroom. Using a random pattern in various colors creates a cool, visually stunning space.
A gorgeous mosaic of blue and neutral tiles makes this all-white bathroom in the Villa Midgard house, designed by DAPstockholm, sing.
While unconventional, these Imagine Tile high resolution graphic imagery tiles featuring realistic looking grass are pretty fun in a kid's bathroom or a laundry room.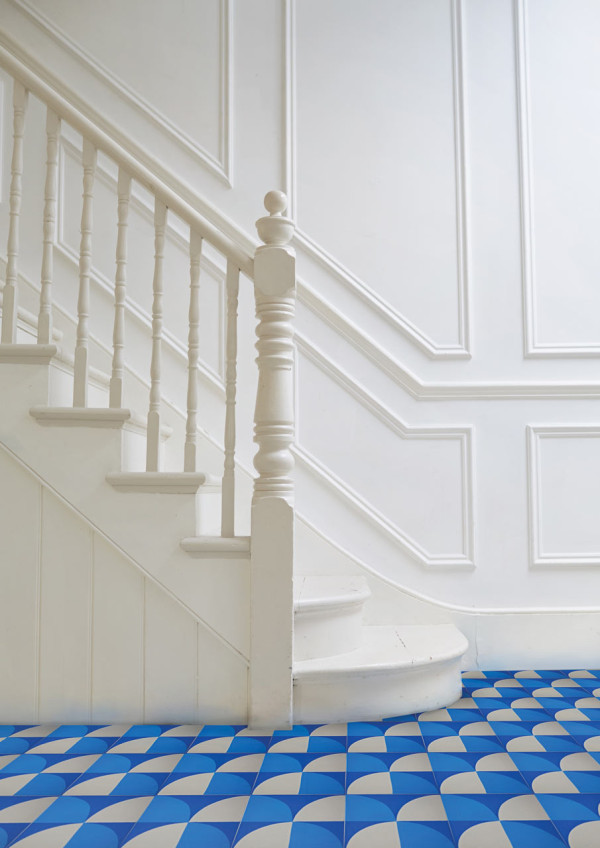 London-based designer Lindsey Lang introduced graphic tiles last year and we love how the electric blue pattern brings a touch of modern to this traditional entryway.
Berlin's nhow Hotel is dubbed "The Music and Lifestyle Hotel" and it's electric decor was designed by Karim Rashid. The floors are a printed laminate tile with one of Rashid's signature graphic patterns.
We've featured Kismet Tile before and their memorable patterns and covetable color options make your flooring options completely endless.
Mosaic designs are a painstakingly slow process with having to hand fit each tiny tile into the exact spot you want so that you can achieve the pattern you're looking for. Imagine the time it took Tesserae Mosaic Studio to finish this rainbow swirl shower floor!
This bathroom, designed by Christina Zamora, features Half Hex Mix tiles from Heath Ceramics, which are part of their Dwell Patterns tiles.
This London townhouse was designed by Studio Toogood with a bathroom that has classic fixtures that are paired with another classic, the herringbone pattern. But it's not just your run of the mill herringbone – interspersed with the large white tiles are randomly placed colored tiles that break up the pattern. They also took it to the extreme and carried the tile right up the walls creating a cohesive environment.
These primary colored (plus green) floors might look like weathered wood but they're actually porcelain tiles from Beaumont Tiles. The Faro tiles give the look of reclaimed wood without all of the splinters. You can mix and match the colors to achieve the look you want.
Which is your favorite?