Washington, D.C. based Schlesinger Associates Architects designed the renovation of the Lassus Residence, which began as a dark and dated, two-level, 2,000 square-foot-space and was transformed into a bright and unique home. Focusing on filling the space with natural lighting, the interior emphasizes open space and volumes making it appear larger than it really is.
The first floor features an elongated fireplace with a marble support peeking out from the right side. The marble is the same material used on the nearby staircase.
The open main floor is mostly white with a dark marble column in the center that hides the necessary pipes, stacks, and ducts, while also bringing contrast to the surrounding white.
The kitchen is now open but is defined by a lower ceiling height. The space is sleek and clean and feels completely European.
The old staircase was hidden, but now, the open stairwell becomes a sculptural focal point on the main floor.
Contrasting volumes of black and white marble create a breathtaking piece of artwork that is more than just a means of getting to the next floor.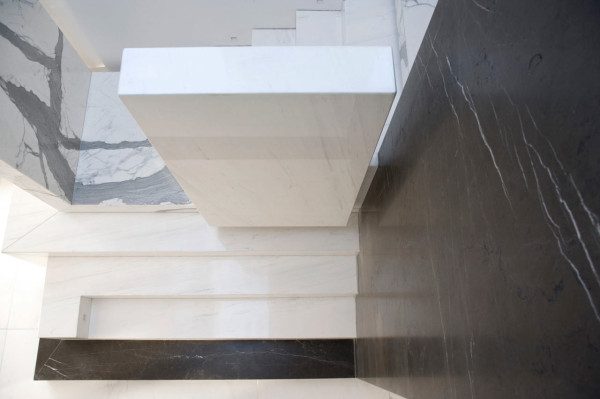 The second floor reveals itself around a central glass spine that divides the public office space from the private bedroom and bathroom without the need for doors. The spine parts contain closets that are lit from above.
The master bath is well-lit with the help of skylights and reflective surfaces. The same marble is carried into the bathroom and sets the tone of the relaxing space.
They also brought in the contrasting dark marble as an accent.
Photos by Paul Warhol and Bruno Lassus.

Design From Around The Web