As an owner of a newly purchased iPad, I'm continually amazed at all the things you can download and do with it. My newest pastime is reading newspapers, magazines, and anything else I can get my hands on. The tablet brings an exciting new level to the digital publishing platform that wasn't there even a short time ago.

Cover
For artists like Bristol, England-based Paul Tysall, it completely changes the game by making the possibility of creating a graphic novel solely for the tablet. He began to develop the story of Das Geheimnis in the fall of 2011 and with the help of Mag+, an app publishing platform for tablets, his story will soon be told using this new technology.
Tysall answered some questions for us about the process of making his upcoming graphic novel Das Geheimnis and his artistic process.

Using Mag+ tools
We noticed that you're doing all of the writing, illustration, and programming for Das Geheimnis. How difficult is it for you to switch gears and go from each thing? Do you favor one more than the others?

So far I've only had to tackle all three parts of the process for the Das Geheimnis "pitch." The "creative" falls into three areas; writing, illustrating and story graphics – a unique aspect of Das Geheimnis sees the reader engaged in investigating back-story elements for themselves, so I have to design things like Gestapo documents and diary pages to pop-up throughout the story. I believe my strengths lie in graphic design and illustration, so I feel confident when working on these elements. I certainly have to be in the right frame of mind when it comes to the writing aspect. I'm hyper critical when it comes to penning dialogue, trying to find a natural flow whilst using the vernacular of the time means the delete key certainly gets a decent work-out.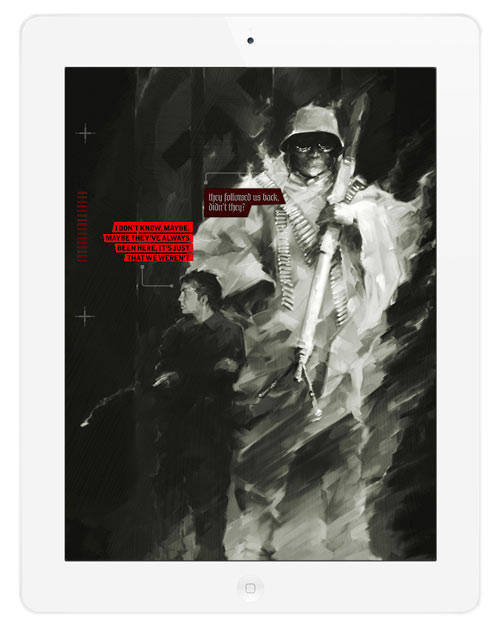 A page from Das Geheimnis
Where are you in process with Das Geheimnis now? Is it complete or are you still doing some tweaking?
I'm at base camp, staring up at a very large mountain. I finished the pitch in late March, so I needed to take a small break from the whole thing. I didn't want to end up falling out of love with Das Geheimnis after putting so much work into it – I'd been working 24/7 since January 2012, and researching the story since October 2011, so I felt a little burned-out by the whole thing. I'm only just coming back to it, I've started to outline the entire first book, and I aim to illustrate a section of this before Mag+ closes their Magnify Your World competition, which should help me get the ball rolling on the first release. [Paul's graphic novel is an entry in this contest]
For you, does the story come before the visuals or do you visualize an illustration and then write the story to go with it?
For me, the two are intrinsically linked, so when I'm thinking about the storyline I imagine the scene and how best to illustrate it. It's like a little mini movie playing out in the tiny cinema that is my brain – so I get a slice of dialogue, location and costume design, then it all becomes about researching and finding visual reference material to help illustrate the scene.
Do you have future ideas about new stories or do you see it as a sequel?
Sure, I've got a few story concepts that I hope to share with the world. But Das Geheimnis breaks down into three books, so if people dig the first release that could slow getting these other stories told – it might be a good thing to let them cook in the creative oven for a while anyway.
I start Das Geheimnis with Book Two – "A Fallen Soldier Returns" – when the main character Dieter returns to Berlin after going AWOL from the Eastern Front, and the whole "demon hunt" begins. What happens in the Berlin story leads onto Book Three, where the two principal characters move the story Stateside and the reader discovers how certain Nazi experiments shaped American history post WWII. Before we get to the USA though, I plan to release Book One – the origins story that focuses on Dieter as a soldier in the 8th SS Cavalry Brigade (and introduces Gunter, a character the reader is already familiar with from Book Two but as a 9ft tall ghost only Dieter can see) and the Nazi experiments that unlocked his "abilities." It's definitely the part of Das Geheimnis I'm really looking forward to telling.
What features excite you with the app format that a conventional, paper graphic novel doesn't? Do you feel the app can tell your story better?
A good story is a good story regardless how it's delivered, but comics are over a century old now and certain comic-book devices age the format – I don't know how relevant a speech-bubble is to someone that's grown up playing video games on their XBox. I believe the tablet changes things, I think it's time to evolve the graphic novel medium alongside this new technology. Do you really need to draw a sound effect when you can embed audio to the page? If the comics industry is open minded enough to ask these questions, then I reckon we're due another "Golden-age" of comics. I just hope that Das Geheimnis is a part of it.
Check out this demo video:
Keep on the lookout for the launch of Paul Tysall's graphic novel, Das Geheimnis, which will be released exclusively as an app for your iPad or Android Honeycomb tablet.
This designer interview series is supported by our partner, Mag+, the brains behind a free InDesign plug-in for creating tablet magazines, without a programmer. If you know InDesign, you can create and publish your own iPad or Android tablet magazine complete with rich media and interactivity. See designers being inspired and get started with Mag+ iPad publishing here.