David Rasmussen has launched a collection of new pieces at this year's Architectural Digest Home Show.
The Curva Sofa (above) blends arching forms in upholstery and wood. The lines of the sofa are clean, somewhat reminiscent of Danish design, but speak as a piece designed in 2012. The perfect word for this design: swooping.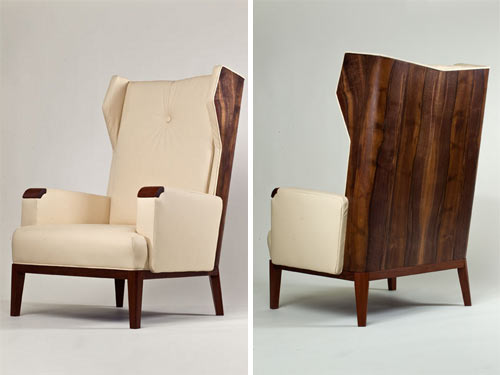 The ReMix Chair is a nice modern take on a traditional wing chair. The wooden back is so beautiful that you can easily put it in the middle of the room and I wouldn't mind looking at all 360 degrees.
The Burl-Tone Table is a modern version of a traditional icon. Modeled after renowned cabinetmaker Duncan Phyfe's masterpiece, it is contemporary in spirit with Greek revival forms. The table top features one of kind walnut burl, while the base is available in either aluminum or wood with a gloss-enamel. Perfect for an evening of poker or chess, the tabletop rocks up for easy stowage.
The Koldebord Collection is functional set of tabletop serving pieces reminiscent of Danish modern design. Each plate is formed from a solid piece of wood and features a nice scooped center with a fun colorful edge detail.