Athens, one of the world's oldest cities, presents itself rather lightly for its age. The interesting thing about its centuries-enduring dynamism is that it always holds a different stature every few years. Once, it was where the playwrights Sophocles and Euripides performed their politics through subtleties; where Aristotle and Plato questioned ideas of society in their schools of thought. The Acropolis stood as testament to Athena's virtues as well as how grand monuments on a hill can pull tourists all over the world.
Just a decade ago, Athens – and, by extension – Greece, was mired in a deep debt crisis. But one legacy endures: Greeks are heavily invested in their country's well-being. Entrepreneurs, chefs, and hoteliers traded their livelihoods in Greek islands to come set up shop in their capital. Visiting Athens today, you'll find a friendly modern art scene informed by classical handicrafts, the world's best cocktail bars, as well with boutique hotels with personality. Here's what to see.
WHERE TO STAY
The Academia of Athens, Autograph Collection recently opened but is well-positioned to be the talk of the town. This boutique hotel is paradise for budding philosophers and those who love dialogue, poetry, and persuasion. Inspired by the Classical philosophers of words and wisdom, Plato and Aristotle, the hotel is situated at the corner of (and gets its namesake from) the Academy of Athens, a magnificent neoclassical landmark founded by Plato and currently the highest research establishment in the country.
Thoughtfully, every guest is given The Elixir of Life at check in –  this refreshing house-special concoction with lemons, soda, cinnamon, and honey is the perfect antidote to airplane fatigue and jet lag. Michelin-starred restauranteur Apostolos Trastellis helms the in-house Greek restaurant Symposium – the menu's top stars are the beef tartar and amber fava with smoked eel. Between the restaurant and the lobby, you can count on being stopped a few times by the friendly bartender or staff who chat with you like you're family. Heads up, General Manager Yiorgos Peroutseas is an exceptional conversationalist and amateur (in Greece, this means "lover of the arts"), he told us about his tickets to watch Florence and the Machine with his wife at the Acropolis – you'll be able to learn about all up-and-coming events and the talk of the town from him.
There are abundant ways Academia of Athens stands out: a dimly lit, Zen-like pool where you can watch reruns of Casablanca as you lap, a sauna and massage chamber, a rooftop terrace with views of the Acropolis, and a truly pampering pillow menu with options from soft to hard; or from soothing massage pillows to supportive, head-proppers.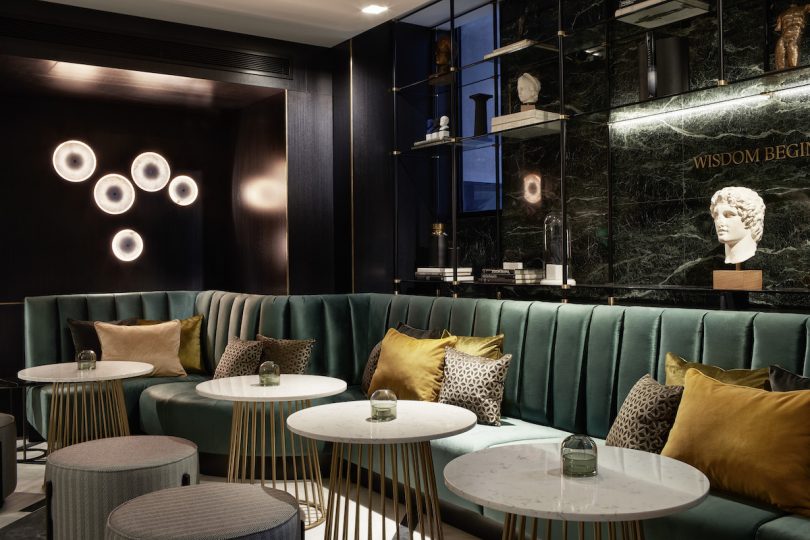 But the biggest reason of all is the hotel's trademark "Dialogue Soirées." Every week on these couches, surrounded by breasts of famous Classical philosophers, the hotel staff arranges for a scholar of philosophy (we had a professor from the University of Dublin) to lead dialogues with guests in the lobby, accompanied by handouts and suggested readings that span from Plato's era to modern day events. It's the closest to being an Academy an Athenian visitor can be.
Other recommendations: Grand Bretagne \\\ AthensWas \\\ 18 Micon St \\\ Alice Inn
WHERE TO VISIT
The Acropolis must top every Athenian visitor's to-do list. The perfect follow-up to visiting the Pantheon perched on the Acropolis rock is to spend time in the sleek, sprawling Bernard Tschumi-designed Acropolis Museum down at the foot of the hill and walk among Bronze and Roman Age artifacts that were found on the rock and surrounding slopes.
From there, venture into the Plaka, a little hotspot of Cycladic Island architecture in the middle of the old city; walking past small houses with all-white facades and overflowing flowers, it's easy to imagine a keen island breeze and lapping waves beating through old Athens.
Athens' newest temple is the $800-million Stavros Niarchos Foundation Cultural Center (SNFCC), designed by the same architect, Renzo Piano, who was behind The Shard in London, the Whitney in New York, and The Centre Pompidou in France. Here in Athens looking out onto the Saronic Gulf, the SNFCC has become an icon of the same stature, giving a home to the National Library of Greece, as well as acoustic structure to the Greek National Opera. There's always something going on at the cultural center, from pilates to dancing, outdoor movies to sailing lessons. It also makes a fantastic picnic spot.
Notable mentions: Radio Athènes \\\ Central Market \\\ Museum of Cycladic Art
WHERE TO SHOP
You'll find woodblock prints on T-shirts, cushion covers, and papers by Krina Vronti in her studio and store, the Athena Design Workshop. Enny Monaco is the upscale pit stop for clothing from Athens' most sought after designers. For gifts, visit fabrika + sonja blum for carefully curated jewelry, papers, decorative items, and toys.
But one of the most interesting things you'll want to take home is a pair of personalized Greek sandals made by the famous Athenian "poet sandal maker" Stavros Melissinos, who has dressed the feet of The Beatles, Jackie Kennedy, Barbara Streisand, and Sophia Loren.
FINAL THOUGHTS
Ancient caryatids hold up the city's gems by day while experimental cocktails lead the scene at night. An Athens visit is perfectly rounded up with a visit to Clumsies: regarded as one of the world's best bars, it draws a casual, unfussy crowd that's more interested in socializing and playing games with friends than anything too crazy – in other words, it's the best spot to spend a weekday evening. Draxmi and The Bank Job are two other more mainstream crowd favorites. After that, head to Street Souvlaki for a late night snack of halloumi cheese and grilled mushrooms. It seems like everyone comes in here some time or the other for a quick pick-me-up, Greek style.