This week, we retrace the roots of Modernism to the East Coast of the United States. Connecticut, in particular, was the home of a group of five architects otherwise known as "The Harvard Five" who settled in New Canaan in the 1940s. The architects, Landis Gores, John M. Johansen, Marcel Breuer, Philip Johnson and Eliot Noyes are often credited for bringing the advent of Modernism to America. They were all influenced by Walter Gropius, who founded the Bauhaus movement in 1919, and then head of the Architecture program at Harvard University that Marcel Breuer taught at. A mere one to two hour drive away from New York, Connecticut has become known as a retreat from the city with sprawling homes and seaports and the home of Yale University. If it has long been overshadowed by the Big Apple and the close neighbours at the Hudson Valley, we hope this travel guide can show that Connecticut is a design destination in its own right.
---
WHERE TO VISIT
Perhaps the most famous of Connecticut's Modernist jewels is Philip Johnson's Glass House, a transparent, 1,800 sqft glass box that Philip Johnson built in 1949 and lived in in New Canaan, CT. What people are less familiar with is that the Glass House is not a singular building, it's also part of an entire estate with 8 other buildings.
The "Glass House" refers both the iconic, transparent residence and the other projects on this 49-acre site, such as The Brick House, Da Monster, the Pavilion In The Pond, the Painting Gallery, the Sculpture Gallery, Monument to Lincoln Kirstein, the Ghost House and the Studio. The Glass House is open from May 1 to Nov 30th, and the annual summer party is occurring this year on June 8, 2019, one of the few days where visitors can roam everywhere without a dedicated tour guide and picnic by the pond or on the estate's grassy patches.
Another architectural marvel is Grace Farms, built by Pritzker-prize winning architect SANAA (the Pritzker is architecture's highest accolade, equivalent to an Academy Award or a Pulitzer in their respective fields.).
Grace Farms is a modern, serpentine-looking public project that encompasses a dining room; a library with books on justice, the arts, nature and faith; basketball courts; conference rooms; an amphitheater; an art studio and even a movie theatre with free movie screenings.
Yale University's campus in New Haven is home to the stunning Beinecke Rare Book and Manuscript library, with books encased in a central six-story high glass tower. The Yale University Art Gallery, right around the corner from the library, was designed by renowned architect Louis Kahn and is free and open to the public as well. The Yale Center for British Art, and the Ingalls Rink by Eero Saarinen are also just a walk away and worth the visit, so you should plan to spend a few hours on campus grounds.
Notable mentions: The Aldrich Contemporary Art Museum // Mark Twain House and Museum // Frank Lloyd Wright's Unitarian Meeting House // Mystic Seaport Museum // Blue Hill Stone Barns
---
WHERE TO SHOP
If you're making the trip to the Glass House, you should stop by Glass House Design Store on your way out. Located less than 10 minutes drive away from the actual compounds, the design store is cosy outlet with modernist home tools and designer accessories. You can expect to find furniture, lighting and curious everyday objects from glass rulers to Bulbing 2-D LED lamps to Alvar Aalto vases to golden paperweight hands and feet by Carl Aubock.
Terrain is one of Connecticut's cutest cafes; it is also the specialized home decor and furniture arm of Urban Outfitters, and is the best place to shop for loose furniture or designer knick knacks when your house needs some sprucing. They've also got an extensive collection of beautiful plants in their greenhouse-like storefront.
---
WHERE TO STAY
The Winvian is a collection of 18 absolutely jaw-dropping luxury cottages in Litchfield Hills, CT that has managed to eke itself a perfect position in the balance of rustic meets modern meets kitschy out of this world.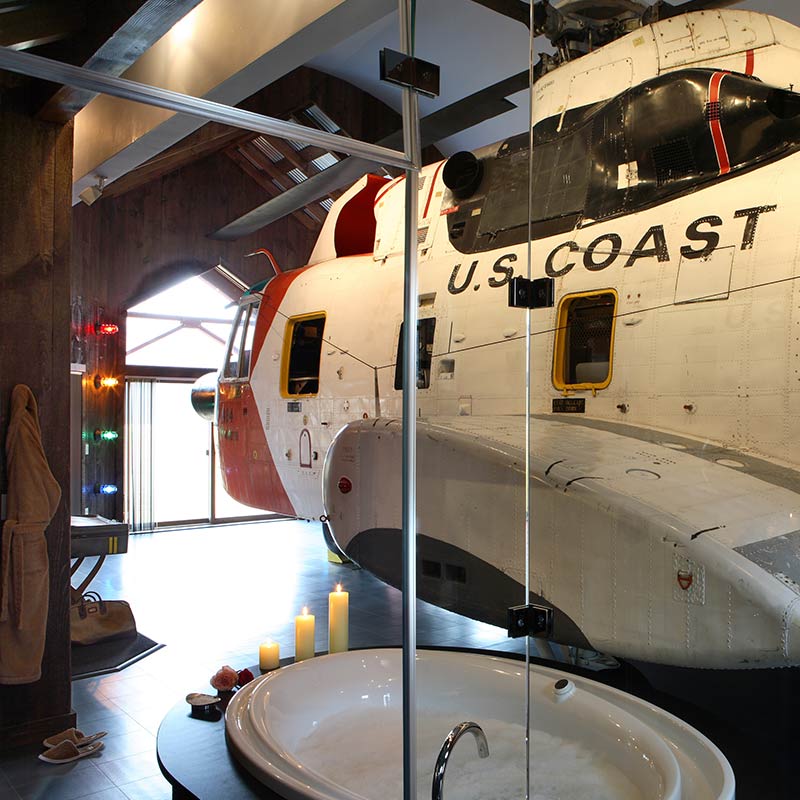 Winvian's Helicopter lodging.
The residences include a "Camping cottage," a "Library," a "Log Cabin," and even a life-sized "Helicopter"! There's even a tub in the "Helicopter" lodge for you to lie in, and soak in the views of the helicopter from, well, the grounds of your room instead of up above. Neat, huh?
Prana Residence is an entire house with an indoor pool, a sauna, a hot tub and a solarium spread across 5 acres atop hills in Litchfield County. The actual structure is made up of a timbered geodesic dome covered with foam. A red spiral staircase leads to a tranquil library and a private massage room downstairs. It's perfect for the whole family, and can fit up to 7 people.
---
FINAL THOUGHTS
Connecticut is as much as a destination for modernism and architecture lovers as it is a second home to me. My partner lives in Connecticut, and I am in Connecticut for several days out of the month, so I'm a fledgling local. We make it a point to discover new restaurants, museums, galleries and stores on the weekend and I've found so many gems along the way.
If you've traveled to Connecticut and have any favorite spots or recommendations for first time visitors, let us know below so we can share (and also check it out ourselves the next time we're up there).