For this month's installment of Design Store(y), we hop across the pond, and back a half century, to poke around the flawless mid-century furniture shop, Førest London, which opened this past spring. Owned by Dutch design enthusiast and London College of Fashion graduate, Eva Coppens, the shop showcases Scandinavian and Dutch furniture reupholstered by local craftsmen, vintage lamps, and select pieces of pottery. Coppens recently launched a collaborative collection with eco-friendly print designer Tamasyn Gambell, whose work is stocked by MoMA and Liberty's of London. Her Bauhaus-meets-modernist prints work perfectly with the vintage aesthetic of Førest London's Scandinavian finds.
Above: Beech chair designed by Hvidt and Mølgaard-Nielsen in 1947; one of the first pieces of furniture made by bending plywood with steam in a mold.

Eva Coppens and Tamasyn Gambell on sofa by Illum Wikkelso
How did you pick this neighborhood?
I picked the location of the shop (which opened in April) after curating a temporary shop, the pop üp butik "Lulu Bright" in August 2010, just a few doors down, whilst studying marketing at the London College of Fashion. I not only fell in love with the area (Clerkenwell has got some amazing old warehouses, quirky streets, and beautiful architecture), but also the people that work and live here. Not only do they get what I'm trying to do (my neighbors are mostly design, fashion, and architecture companies), they appreciate the aesthetics of the pieces I'm selling and respect the value of the design. They also make for great conversations – I often joke to my friends that working sometimes feels like going to the pub; I hear so many fascinating stories, from all walks of life.
And the storefront?
When I moved into the old jewelry (work)shop it had been derelict for several years and was in a horrible condition. However, I could see its potential and knew it would allow me to completely start fresh, and make it my own. It took me about two months of grueling work. The budget was extremely tight, so it was very much a 'get your hands dirty' moment, calling in favors from friends and essentially grafting from 7 AM – 10 PM for eight weeks, picking up any necessary DIY skills needed along the way. The upside of carrying out most of the work single handedly, was that I had complete control over quality and decision making, and I could react to the environment in terms of its design as it progressed. It also means I have a real appreciation of the space now it's complete. The wonderful reaction to the shop and its design now we're open has really made all the blood, sweat and tears worth it. I'm very proud of what we've achieved.
How did you choose the name for the store?
The name of the shop "Førest" references the enormous inspiration Scandinavian designers took and continue to take from nature, alongside encapsulating the open, creative, and stimulating environment I'm trying to create. It also embodies my desire to help young creatives by collaborating with them and showing their designs alongside prestigious designer pieces, allowing them to command their space, just as flowers on the forest bed flourish among the established giants of the upper canopy.
What are the challenges you face?
Two things have been most challenging. One is getting my voice heard – I import everything from Denmark, Sweden, Germany, and the Netherlands, so I have to deal with couriers quite a lot. Being a 25-year old woman, people occasionally try to take advantage, so I have learned to be more conscious of who I work with. The other thing I find difficult, which I'm still working on, is my perfectionism. By wanting to do everything myself (sourcing, being in the shop, customer requests, delivery, photography, organizing the next collabs, and making an online catalogue), I have very little 'downtime' to relax and reflect. I'm hoping that once Førest is a little more established, I might be able to find some more time for myself.

Brown leather sofa with stained beech legs by Danish furniture makers Stouby; coffee table with waterfall edges designed by Danish duo Hvidt / Molgaard-Nielsen for France & Sons; Cordemeijer daybed for Auping
What's your favorite item in the store right now?
That's a difficult question; I only source items that I absolutely love and want to have myself. If I had to choose it would probably be the daybed by Dick Cordemeijer for Auping (pictured above), which I got reupholstered in a lovely mustard colored wool. My all time favorite is the Hvidt + Molgaard-Nielsen AX-chair – the two tone in the wood and the plywood arms epitomize Scandinavian design for me.

Rob Parry armchair upholstered in wool print designed exclusively for Førest by Tamasyn Gambell

Teak chairs by Cees Braakman, newly reupholstered in oatmeal colored Swedish linen
What is this season's theme/inspiration/story?
The first collaboration of the shop is with Tamasyn Gambell – an amazing eco-friendly print designer, with whom I worked closely to create three prints. Her style is very modernist/Bauhaus inspired and therefore works absolutely brilliant with my mid-century furniture. Some mid-century pieces are reupholstered in her prints and additionally we had some lampshades and cushions made locally to complement the collection.

Hand screen printed lampshades by Tamasyn Gambell for Førest

Left: Chair by Grete Jalk. Both: Floor lamps with Tamasyn Gambell for Førest shades
What's been a consistent best seller?
Pairs of armchairs and occasional/ hallway chairs seem to be very popular. My pendant lamps went very quickly as well, I'm patiently waiting for my next batch, currently being rewired.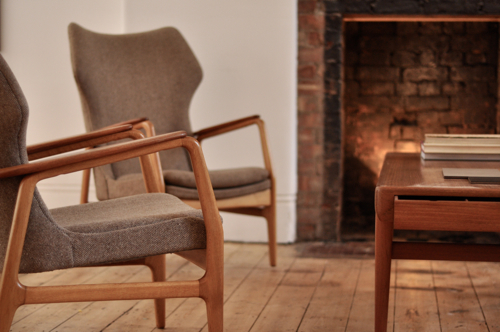 Pair of original 1960s teak and beech armchairs by Dutch furniture makers Bovenkamp
Are you carrying any undiscovered gems that you're particularly excited about?
I love promoting lesser known mid-century designs. Besides the Danish Hvidt, Andersen, and Kristiansen, I also stock a few Dutch designs by Braakman, Bovenkamp, Gispen, and Cordemijer.
Does the store have its own line?
This is definitely something I would like to do in the future, but for the moment I aim to collaborate with designers and artists to give the store an exclusive element.
Do you have anything from the store in your own home?
There is one piece, the Shell chair by Ib Kofod-Larsen, which I could not resist keeping for myself. Other than that I've been very restrained. Although I must admit, I almost live in the shop, so I am able to enjoy the pieces here every day anyway!
Visit Førest London at 115 Clerkenwell Rd, EC1R 5BY.