Melinda Cox is a Massachusetts native who holds degrees in art history and graphic design. She founded BALANCED DESIGN, a design company using eco-friendly materials like organic fabrics and wool for area rugs, hand printed fabrics and handmade pillows in 2002. The line has appeared in numerous magazines, blogs, books, the "green lounge" at the 2008 Academy Awards and on HGTV. The designs are created in the Providence studio, are hand printed in an old mill in Rhode Island, and manufactured in Fall River, Massachusetts. All of the line is made in the USA.
Let's follow her around and see what's she's up to:
5 AM – 7:30 AM: I usually start my day anytime between 5 and 6 AM with coffee and at least the op-ed pages in the Times. This New England winter has been cold and snowy, so I put the TV on right away to see what's happening with the weather. The mornings are a crazy, hectic mad dash to get my 8 year old son to the bus on time. I make his lunch. Yell for him to come down. Yell again for him to come down. Get the coat, hat, gloves, boots, backpack, water bottle, homework, snack, snow pants, breakfast. By 7:15 AM when we walk to the bus, I'm exhausted but usually solve that problem by a walk/run through the streets of Providence. Today, however, I have several appointments, so there is no time for fresh air.
7:30 AM – 10: AM: I decide to work a few hours from home on the first round of sketches that will eventually become fabrics that will debut at the ICFF show in May.
I tend to stockpile my inspirations-photos taken with the iPhone of anything that inspires me. Any simple shape can draw me in. Here I'm looking at an iron gate photo that I took in the Fall at this beautiful, old cemetery up the road. I work fast using sharpies and trace just to get the ideas out. I'm always editing my designs, trying to eliminate any extra visual information. I'm definitely a minimalist and trained as a graphic designer, which I think shows. I design in stages and in the beginning, I try to skip all the "reality" factors that eventually have to become part of the design like will this color "sell," etc. I'm excited for the design time today-so many days are spent focusing on running the day to day business.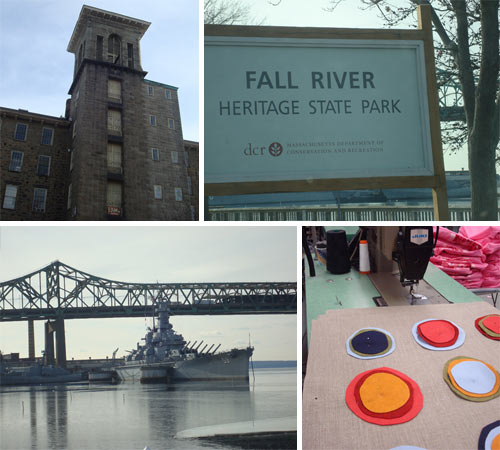 10 AM – 12 PM: At 10 AM I leave to visit my manufacturer in Fall River, MA. It's about a 20 minute drive from Providence, over the bridge past the WWII memorial with the world's largest collection of WWII Naval vessels. Fall River was once the center of textiles for the USA. I see Balanced Design as the next generation connected to that history. My stitchers are in an old mill building which is now semi-functional as a mill. Most of the spaces are taken up with shops or offices. It's been a fast and dramatic decline in manufacturing here. Buying local, using local crafts people, has become an important part of the mission for me. Here's our Mona pillow (inspired a few years ago by my son's preschool class and his teacher, Mona) ready to be sewn. The felt is cut by hand in the studio, pinned up and delivered to Fall River for stitching.
1 PM – 2 PM: Back to Providence for a meeting with Interior Designer Sophia Shibles who runs a full-service interior design firm specializing in taking design concepts from the pre-construction phase through completion. Sophia uses modern pieces mixed with antique accents and has asked us for custom rug designs for a beautiful, but comfortable beach cottage renovation. Here, my assistant Dede Moubayed (left) is working with Sophia on additional colorways for the fabrics. It's a fun meeting where we laugh a lot. In fact, Dede and I were once written up on a blog for having one of the friendliest booths at the trade shows!
2 PM – 3 PM: Today I am visiting a new local account here in Providence, Kreatelier, which is owned by two very creative European women.  They specialize in selling products made from beautiful textiles. I love that they ask customers to bring their own shopping bags—taking eco-friendly to the next step. Because we have accounts all across the USA, it's rare that I get to visit the shops that stock our products. Kreatelier is selling our pouches and pillows, and I ask how the reception has been and what is selling through the fastest. I also ask for any feedback. The best thing about going to art school is the thick skin you develop about feedback. I love not being afraid of the feedback, even when it means you have to rethink something, or abandon an idea. Here are our Branch pillows in blue/red and lavender/chocolate. This line is hand printed using water based inks with inserts that are made from recycled soda bottles.
3:30 PM – 5:30 PM: I run to pick my son up at the bus for 3:30 PM. I start and end my days early. After 3:30, most of my work is fit in around my son's life: homework, piano practice, soccer. My studio is about striking a balance between the green-est possible solution and good design. But the word "balance" has come to mean so much more to me. I balance life and work and it is always shifting. Today, we have only one box to ship, and Myles like to help on those days. Instead of calling for a pickup, Myles and I run to the FEDEX ourselves which is in the middle of the Brown University/RISD college area. Cool little shops, pizza places, bookstores, etc. We spend a good hour at the RISD art supplies store. I often hang out in the art book section. I have a degree in art history and I try to look at as much art as possible. Since I can't get to museums often, I look at a lot of books. Myles loves all the art supplies and usually wins at getting me to buy something for him here.
5:30 PM: Since there aren't any events tonight, this day ends early and we head back home. Now I will focus on dinner with my husband and son, a glass of wine, email, and the social media aspects of running a business. Twitter has been great for connecting us to so many interesting people. Our Facebook page is also coming along. Tomorrow the day will be very different and I like that about design based businesses. I'm excited to get back to those sketches, too!
Thanks Melinda!
Take a peek at the other Designer Dailies.