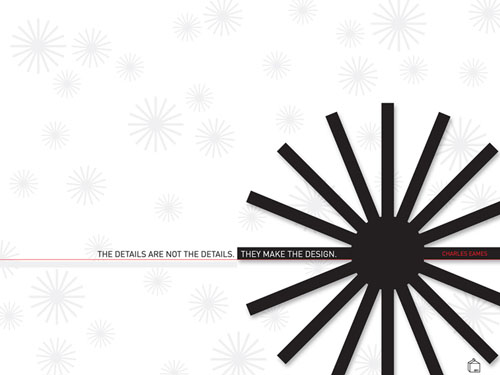 We all work very hard, many of us spending countless hours staring at our computer screens. So I thought, why not have something pretty and inspirational to stare at? This is a new project we're going to try out here on Design Milk — Designer Desktops. Starting this month, Design Milk will create a beautiful desktop wallpaper for you to download to your computer and iPhone, inspired by a thought-provoking quote from a renown designer. This is all in good fun, and best of all, they're free!
This first month, we're kicking things off with none other than Mr. Charles Eames.
Click on the size below to download:
1024×768 \\\ 1280×1024 \\\ 1680×1050 \\\ 1900×1200 \\\ iPhone
This month's design was created by our very own talented Eleanor Cleverly. Learn more about her here.
If you are interested in being involved in our Designer Desktop project, please email us at [email protected] with more info about your design/art skillz.