Set in the historic heart of Oaxaca, the Escondido Oaxaca Hotel offers an intimate and hidden getaway merging historic architectural details and contemporary architecture framed with verdant accoutrements highlighting the natural beauty of the coastal state in the south of Mexico.
The Escondido Oaxaca Hotel exemplifies what smaller boutique accommodations offer: privacy set within the context of modern serenity, enveloping guests into their own private world.
Designed by Alberto Kalach of Taller Arquitectura X, the former traditional Oaxacan residence's unassuming front facing exterior remains intact, an intentionally respectful and humble introduction hiding an intimate series of indoor/outdoor spaces decorated by interior designers Lucía Corredor and Cecilia Tena of DÉCADA Carlos Couturie. An astute attention to weathered textures and an adherence to muted organic hues skillfully illustrates a pleasing merging of minimalism alongside lush garden landscaping, maximizing the possibility of a state of relaxation.
Guests are welcome to enjoy the hotel's pool and pergola-covered bar situated on the top floor of the original residence structure, while a "Culture Room" on the ground floor is reserved for quiet reading, contemplation, relaxation, and also serves as a co-working area for those foolish enough to bring their laptops.
The property's twelve rooms and suites are all modest in size, ranging between 205 to 248 sq. ft. – forgoing opulence for a serene simplicity integrating a palette derived from the region's coastal landscape.
Four of the rooms are situated in the historic building, with the remaining eight housed within a contemporary tower, added to the back of the hotel (two with patios and six with balconies).
Part of the Grupo Habita collection, co-founder Carlos Couturier lent a direct hand in the property's redesign, an effort described working toward honoring the past and serving the future – "more than a hotel…a work of art". The results are rooms where the imperfections of a wabi-sabi philosophy cohabitate with the owner's self-described strive for "obsessive perfectionism".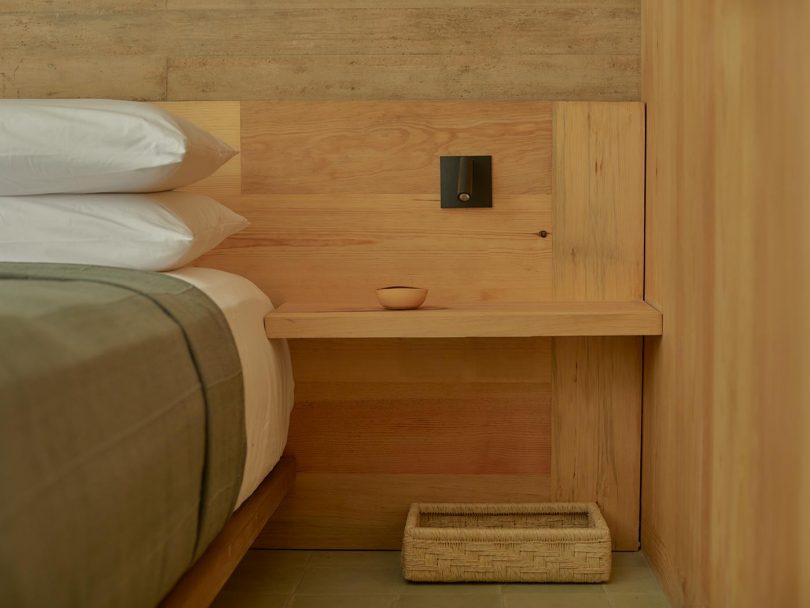 What: Escondido Oaxaca Hotel
Where: Avenida José María Morelos # 401, Colonia Cuartel Quinto, CP 68000, Oaxaca, Oaxaca
How much: From $198
Highlights: A "Culture Room" offers guests a
Design draw: Located in the Historic Center of Oaxaca, numerous art and design museums surround the hotel and are all within walking distance, including the Alvarez Bravo Photographic Center, MACO Contemporary Art Museum, and the Museo Textil de Oaxaca.
Book it: Escondido Oaxaca Hotel
Photos courtesy of Escondido Oaxaca.
Go virtually on vacation with more design destinations right here.