Do you remember the color drenched house on Shelter Island designed by New York City-based architects Peter Stamberg and Peter Aferiat that we featured last year? Well the duo has completed another fantastic, and no less colorful project — The Saguaro Hotel in Scottsdale, Arizona. It's Stamberg Aferiat Architecture's first venture into hospitality, and we have to say, we're ready to check in.
The property, which has 194 guest rooms, two pools, full-service spa, bar, coffee shop, and restaurant, is a bright spot in the desert. Stamberg and Aferiat based the smoking hot color palette on indigenous wildflowers in the region. The vivid façade features hues of green, yellow, orange, and pink, colors that are also echoed in the interior, along with healthy doses of red, purple, and blue.
According to an interview with the architects on T Magazine's blog, getting approval for all that color was a pretty big deal. Stamberg told them, "It is written in the building code that everything you do has to be natural and about the nature of the desert. That is why everything there is beige and sand color. That's when we went to the planning department and said we would like to use 12 different colors and we would like them to be based on Arizona wildflowers, and here are the 12 wildflowers."
The hotel's furniture draws on Scottsdale's cultural context, featuring simple pieces paired with traditional designs inspired by Latin and Southwestern influences, including the work of Mexican architect Luis Barragán.
Outdoor fireplace.
Guest room with king sized bed.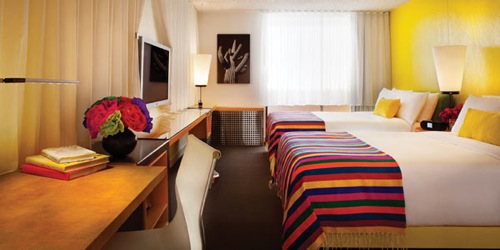 Guest room with two double beds dressed in stripes.
The lobby.
It's Arizona, a steer skull is mandatory.
The Saguaro bar, Old Town Whiskey.
Sitting area detail.
A graphic arch is a fountain too, spilling water into the Calma pool.
The hotel entrance.
Are you packed yet?
What: The Saguaro Hotel
Where: 4000 N Drinkwater Blvd., Scottsdale, Arizona, USA
How much: Starting at $99.
Highlights: Outdoor fireplace for cool nights and pool surrounded by plenty of lounges, as well as covered areas for shade on broiling days. Plus, a spa and topnotch restaurant.
Design draw: A riot of color in a decidedly beige desert town as imagined by Stamberg Aferiat Architecture.
Book it: 877-808-2440 or online.
Photos courtesy of The Saguaro.
Go on a virtual vacation with more design destinations here.