DittoHouse Collaborates With Guatemalan Women on Colorful Woven Textiles
DittoHouse Collaborates With Guatemalan Women on Colorful Woven Textiles
1/21 Photos
2/21 Photos
3/21 Photos
4/21 Photos
5/21 Photos
6/21 Photos
7/21 Photos
8/21 Photos
9/21 Photos
10/21 Photos
11/21 Photos
12/21 Photos
13/21 Photos
14/21 Photos
15/21 Photos
16/21 Photos
17/21 Photos
18/21 Photos
19/21 Photos
20/21 Photos
21/21 Photos
One of our favorites for the last 5+ years is Cleveland-based DittoHouse, a textile brand founded by textile designer Molly Fitzpatrick in 2015. When we launched our own online shop, DittoHouse was one of the first we invited on board because it's impossible not to fall in love with the brand's visually enticing aesthetic of bright colors and graphic patterns inspired by various influences, like the Op Art movement, Cape Dorset Inuit printmakers and the women weavers of the Bauhaus. Now, DittoHouse has launched a collection that's the result of a collaboration with Trama Textiles of Quetzaltenango, Guatemala, that came together over the course of a year and a half of communicating online. The relationship between the two companies may have been all digital, but the Woven Collaboration collection is made using one of the earliest methods of weaving: a backstrap loom. Each of the nine pieces are designed by DittoHouse and woven by women that are a part of the 100% worker-owned and worker-run cooperative that is Trama Textiles.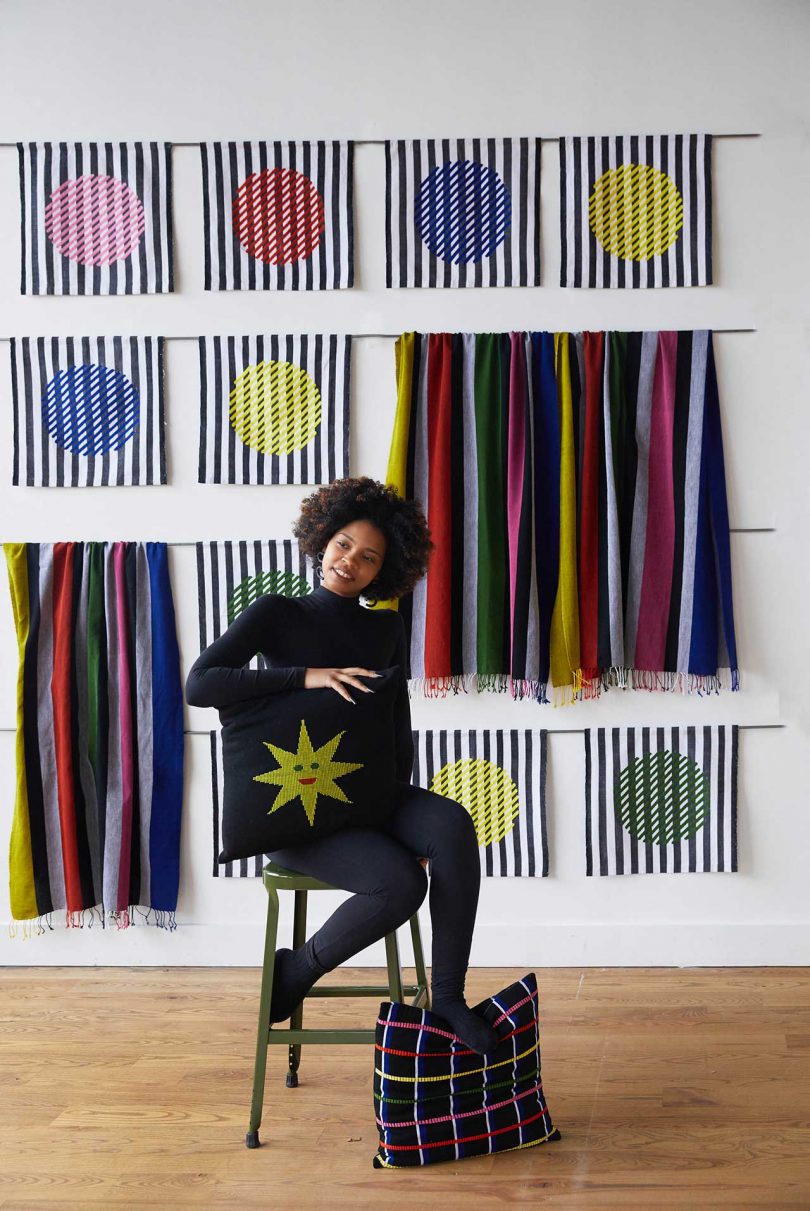 I'm thrilled to partner with Trama Textiles for many reasons: they are the best weavers in the world and dedicated preservationists of their craft and culture, the organization is founded and run by Indigenous women and 100% worker owned – they are a model of "what could be" in American business – an organized, empowering, sustainable cooperative. The group is incredibly community-minded, they take care of their members and are intent on improving the outlook of the next generations.
– Molly Fitzpatrick
Formed in 1988, Trama Textiles works directly with 400 artisan women weavers from 17 weaving cooperations across the western highlands of Guatemala. For each design, Trama Textiles founders Oralia and Amparo knew which artisan should weave it based on their styles and strengths, resulting in a vibrant collection that translated Molly's vision in a deeply human way. The hand-woven collection includes tapestries, throw blankets, decorative pillow covers and wool rugs that evoke the love, care and skills of everyone involved in the collaboration.
The artisan weavers of each product set their own price, minimum order quantity and production lead times, while DittoHouse paid for everything in full before production even began. This way of working provides the women with fair wages to support their families while preserving and creating traditional textiles arts and techniques.
Another important detail to note, 50% of profits from the products in the Woven Collaboration collection will go into Trama Textiles' Almaya Fund which aids its cooperative members in having access to health and welfare services, professional development, and adult & child education, in order to improve health and to end the cycle of poverty in their communities.
What Trama Textiles models is what I dream of for my business and family – preserving and respecting the craft that I love, while treating others with respect and compassion. If all businesses operated with the care that Trama Textiles does, the world would be a beautiful place.
– Molly Fitzpatrick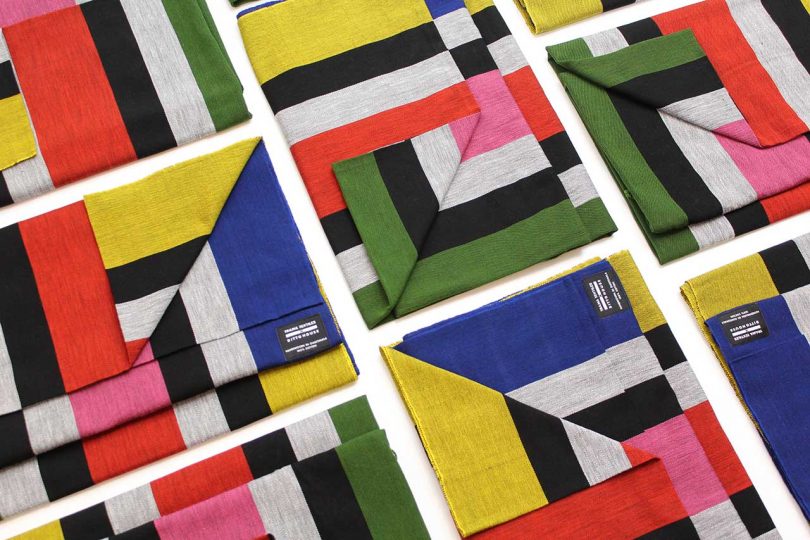 >>> Shop >>> Red-Orange Ball Tapestry
>>> Shop >>> Yellow Ball Tapestry
>>> Shop >>> Green Ball Tapestry
>>> Shop >>> Blue Ball Tapestry
>>> Shop >>> Pink Ball Tapestry
>>> Shop >>> Stripe Blanket
>>> Shop >>> Grid Pillow Cover
>>> Shop >>> Star Pillow Cover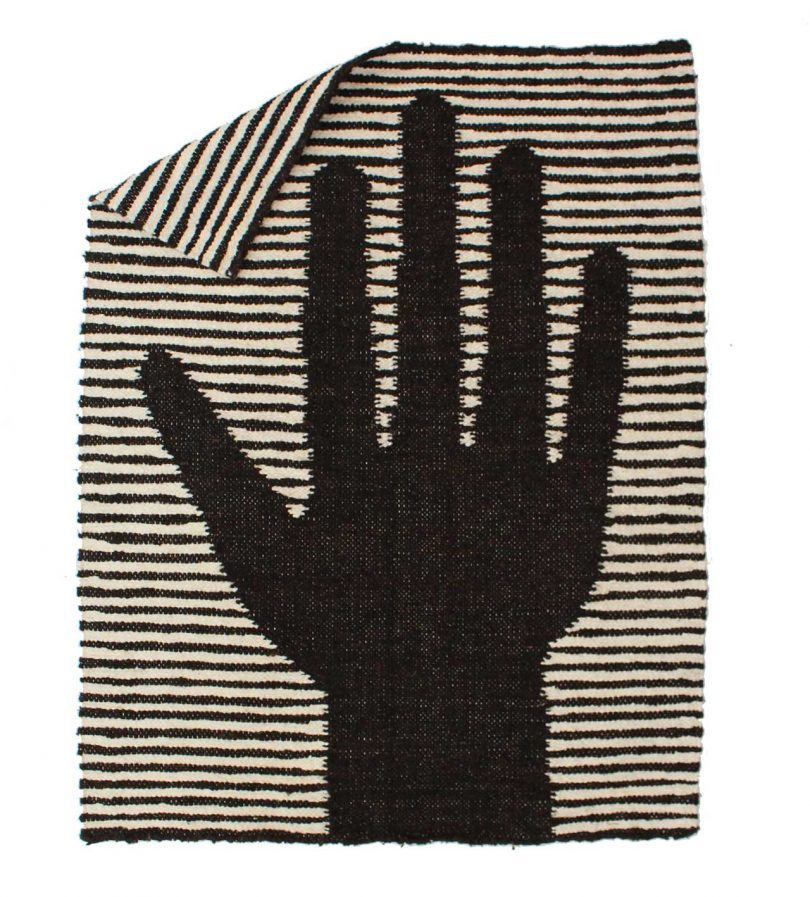 >>> Shop >>> Hand Rug
>>> Shop the Trama Textiles x DittoHouse collection here! <<<
Model: Candace Cunard
Photography: Da'Shaunae Marisa