DMTV Milkshake: B. Robert Moore on Creating + Defining Your Narrative as an Artist
DMTV Milkshake: B. Robert Moore on Creating + Defining Your Narrative as an Artist
1/5 Photos
2/5 Photos
3/5 Photos
4/5 Photos
5/5 Photos
In this week's Milkshake episode, B. Robert Moore wants his fellow Black artists to know: The time has come for their work to receive the attention it deserves. "I think, as a black artist, this is the best time to seize the day," he says. "Start your business, create your work, put it out there and be vulnerable. Be independent if you can. I think there's a beauty in it, even if it starts as a hobby."
Moore is from Iowa, and the American Heartland figures prominently in work like Harvesting Humanity (2020), for which he projected images of "Black icons of the past" onto iconic Midwestern structures: barns and silos. His work illuminates a dolorous past and an uneasy present, with an eye, nevertheless, to a hopeful future. "I think what's possible for Black artists is endless today, more than ever, and I think it will only get better," says Moore, whose celebrity fan base includes Lena Waithe, Taraji P Henson, and Taye Diggs.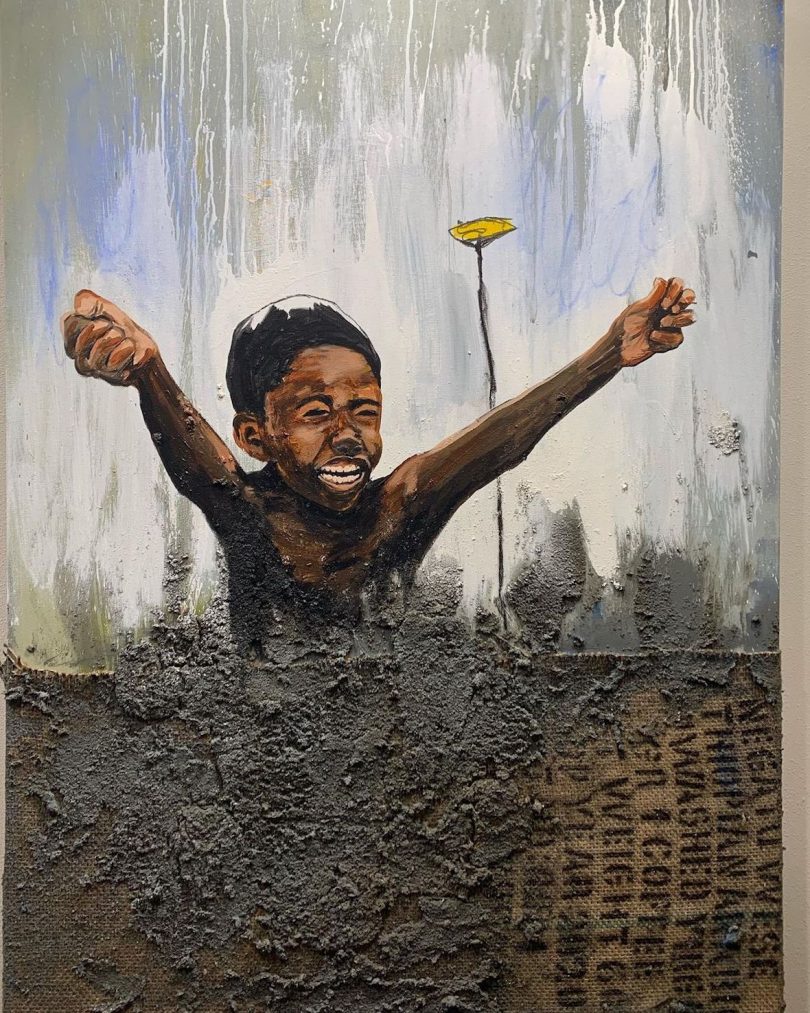 Also in this Milkshake, Moore explains why a sense of narrative underpins work like "We Rise," which mixes painting with sculptural elements provided with the use of sawdust concrete, culled from Home Depot waste. "Early on into my self-taught career, I started experimenting with different mediums and materials and started playing with sawdust as a medium to enhance texture in my abstract work, and it evolved to the point where I was able to use a sawdust to create almost like a concrete substrate on my canvas. And so it almost becomes sculptural."
For more – including why he exhorts his fellow artists to explore narrative, to offer "that extra layer that you're willing to get to, to be vulnerable, to tell a story that connects the viewer or the collector to more than just the aesthetic" – tune in.
Diana Ostrom, who has written for Wallpaper, Interior Design, ID, The Wall Street Journal, and other outlets, is also the author of Faraway Places, a newsletter about travel.
Milkshake, DMTV (Design Milk TV)'s first regular series, shakes up the traditional interview format by asking designers, creatives, educators and industry professionals to select interview questions at random from their favorite bowl or vessel. During their candid discussions, you'll not only gain a peek into their personal homeware collections, but also valuable insights into their work, life and passions.