San Francisco-based Klopf Architecture could remain busy just remodeling Eichler homes because they do it so well. Their latest, located in Burlingame, California, is a Double Gable Eichler remodel where the homeowners had grand ideas about living in it forever. After you see the results, you'll understand why!
As with most Eichler homes, connecting the outdoors with the interior was key. Floor-to-ceiling windows frame the greenery of the surrounding landscape and also give views to the sunny interior courtyard that helps fill the home with natural light.
The interior is modern, clean, and open, while still keeping the look and feel of Eichler's magic.
Klopf gave the owners a completely modern kitchen with sleek white cabinets that blend into the white walls.
A skylight above brightens up the galley kitchen and bounces light off of the walls and cabinets.
The floors continue from the interior right into the courtyard making the exterior space feel like a part of the interior.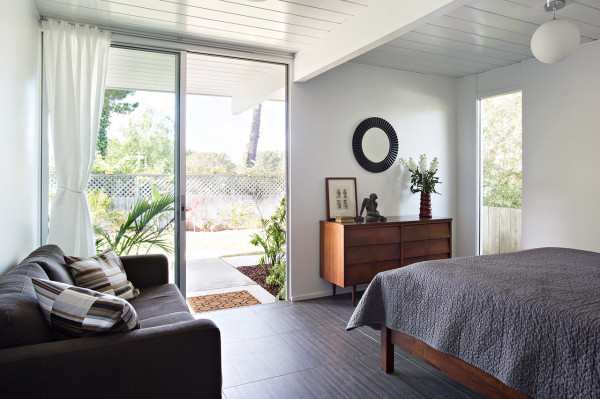 All of the bathrooms were remodeled, as well as the laundry room, closets, and systems to make the home more efficient.
I'd live here forever, too…
Photos by Mariko Reed.