My dad was amongst the special breed who always insisted we forgo spending anything for him for Father's Day. Every June he'd indubitably find a way to turn away the limelight from himself, ever insistent he didn't need anything. "Family is enough." That is, until one year I found out what he truly wanted (and could eventually afford with my first job) – a digital satellite cable system – a gift for the lifelong cinephile and sports fan. And that's the challenge when it comes to finding a gift for dear old dad, teasing out what he wants, yet rarely reveals. Hopefully something in our roundup of gift ideas below makes the father in your life as surprised and pleased as mine was that memorable Father's Day.
Bang & Olufsen Indigo Blue E8 2.0 \\\ $350
These Bluetooth 4.2 wireless earbuds are notable alone for their understated Danish design, but also add a Qi-certified charging case wrapped in genuine leather with tasteful aluminum inlay, offer 16 hours of playback, and come equipped with a cool Transparency Mode that permits ambient sounds admittance with the tap of left ear bud.
KNNOX Lighter \\\ $319
I never liked that my father was a lifelong smoker, but I did come to covet his cool collection of lighters that would light up with a push of a button or strike of the flint wheel. He would have appreciated this non-disposable design intended for a lifetime of use, specifically its handsome brass finish that will patina with every passing year.
Bambino Plus Espresso Machine \\\ $500
It's not unlikely you harbor memories of dad sipping coffee before heading out for his 9-5 job. Upgrade his drip machine for something a bit more refined. The compact size of the Breville espresso maker belies its serious capabilities for pulling shots quickly and consistently without the fuss of other machines.
The Transit Arkiv Laptop Brief \\\ $255
Mission Workshop makes some of our favorite backpacks, messenger bags, and briefcases, like this weatherproof laptop briefcase designed for the double duty of work and travel. It's outfitted with more than sufficient storage for the gent who aims to always come prepared. A cool extra feature for dads who cycle to work: the briefcase is designed to attach onto backpacks for easier and more comfortable commutes.
Grovemade Brass Key Ring \\\\ $59
Maybe your dad was like mine, always happy to greet the weekend with a bottle of his favorite beer in hand. His memory came to mind with sight of this compact bottle opener, one featuring a particularly refined form and function capable of popping off caps with ease, while also designed to hook onto a belt loop between bottles. Gift dad one of these with a case of his favorite beer(s) and he's apt to toast you in thanks.
Handpresso Auto Set \\\ $229
The Handpresso looks like equipment intended for deep sea diving, but it's actually a capable portable espresso machine. The hand-sized machine produces an astounding 16 bar of pressure in just 2 minutes, resulting in quick and delicious cups using freshly ground beans or E.S.E. coffee pods. If you're going the extra mile, pair this set with a coffee subscription to optimize the experience.
Tineco Pure One S12 \\\ $599
For the gent who loves their tech and admits to a neat freak streak [raises hand], the Tineco Pure One S12 stick vacuum is an enticing proposition and probably an unexpected gift. The vac's LED display keeps tabs on the amount of dust being sucked up, battery level, and suction power at a glance (which can be further enhanced with integration with an app for anyone who wants to be that informed and diligent with their cleaning duties). There's also an extra battery to pop in whenever a cleaning session runs long, while a dual charging wall mount keeps batteries and three other accessories neatly stowed away and off the floor. Get this for someone who fancies a Dyson, but who might appreciate a more sophisticated design with quieter operations.
Supply The Single Edge 2.0 \\\ $79
A simple but efficient tool engineered for the ritualized pleasures of shaving with a straight razor that also offers the precise, ergonomic control of a disposable razor. Each set comes with a 6-month supply of injector-style blades, the anti-thesis of cheapo drugstore brands.
Teenage Engineering OP-Z Portable Multimedia Synth \\\ $599
Dads with a musical gene and a penchant for synth-based tunes will flip their receding hairline wigs when they get their hands on one of these portable all-in-one music making machines produced by Swedish design studio, Teenage Engineering. The "multimedia synthesizer and sequencer" empowers experimentation, with a 2-octave keyboard, built-in speaker, microphone, headphone jack/audio out port, and USB-C port. Pair it with an iPhone or iPad and you've got a live performance electronic instrument that can practically fit into a coat pocket.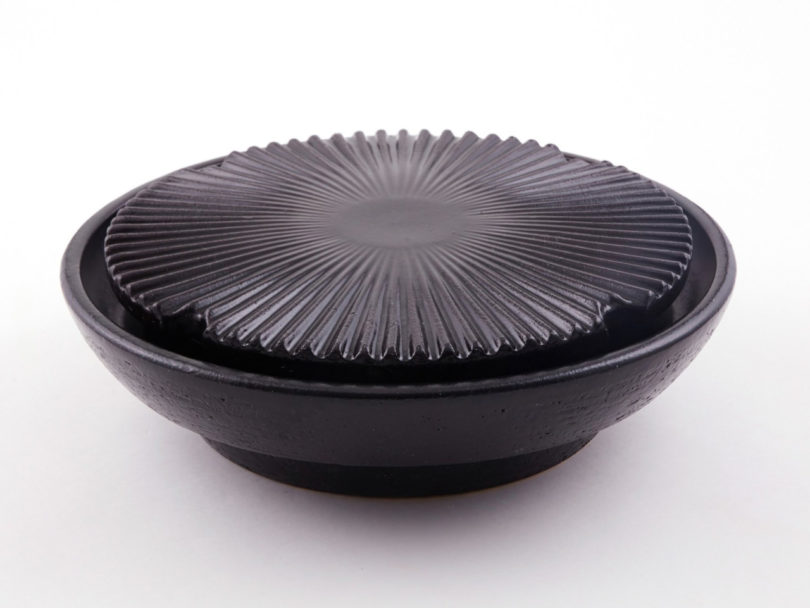 Yaki Yaki San Smokeless Grill \\\ $180 + Holy Steak Grail Steak Co. Wagyu Steak Flight
One of my personal favorite cooking tools, this earthenware clay grill always seems to impress guests with its ability to sear meats with those satisfying grill marks, but without an excess of smoke whether indoors or out. The Japanese design is timeless, as is the grill with fastidious clean and care. The obvious pairing: genuine Japanese Wagyu beef, a delicate and intensely flavorful meat that benefits from the controlled heat of this cook top made with 4 million year porous clay.
Wabi Sabi Glass Teapot \\\ $55
Don't front, a lot of gentlemen out there prefer tea over coffee. Pietro Russo's 'Wabi Sabi' tea filter and pot combination designed for Ichendorf combines Italian design with Japanese functionality into the sort of everyday object that brings daily joy with every pour, regardless of which tea he prefers.
Veark CK01 Chef's Knife \\\ $165
When in doubt, get dad a knife. A really sharp one and ideally a chef's knife – the most versatile and easy to handle size. Forged in the town of Solingen, Germany, Veark blades retain sharpness for longer due to their hardness score of 58 on the Rockwell scale, and keep an assured grip thanks to an ingenious channel along its handles for the thumb.