The following post is brought to you by Adobe. Our partners are hand-picked by the Design Milk team because they represent the best in design.
Becky Simpson is an illustrator, author and graphic designer who's based out of Austin, Texas who's already working on her second book. She's written a book, that she also illustrated, called I'd Rather Be Short, and is currently working on her second book, The Roommate Book, to be released in 2016.
Her work reflects her passions for connection, process and play. During her residency, she's focused on the creative process of designing a sustainable illustration business, and she's excited to experience mentorship and growth as an artist by exploring new methods and mediums.
Because of her fun, enthusiastic and lighthearted drawings, she landed a coveted spot with Adobe as a Creative Resident. For her first project, she embarked on a 100 Day Project inspired by Mark Twain's quote, "The secret of getting ahead is getting started." "The best place to start is somewhere," she says.
During her residency she's been working to build a business around her art, from the act of making to documentation, sharing and accountability. She walks us through the process of creating a few home and design-themed illustrations exclusively for Design Milk! Here's Becky:
Most of my work starts out hand drawn. Sometimes I scan it in and edit the rest in Illustrator or Photoshop and other times I use apps like the Adobe Draw app to execute projects when I want to stay mobile.
I like using my Adobe Ink stylus, but I don't need to in order to get the most out of the app.
I enjoy using Draw it because 1) it takes up less space on an airplane than a stack of loose leaf papers and handful of writing utensils 2) It's also just really easy to use and 3) it's great for tracing images. Take this for example.
I took this photo from my iPad. Then I traced some parts and improvised the others.
I'm a big fan of utilizing the layers because it makes future editing a lot easier and you can recolor any section just by selecting the new color, then clicking on that color block in its respective layer and just hold until it changes. I used some of my color themes from my Creative Cloud library as color inspiration. I enjoy using Adobe Color to capture palettes from everyday life (it's cool to think that a piece of street art, scarf, book cove, etc. can inspire a completely new project so easily. It's the gift that keeps on giving.)
Like Illustrator, there are varying brush options, and you can adjust the size and opacity. This is the secret sauce. I like to savor the details and go crazy with the thin lines. I know…you should see me on the weekends.
Before I knew it, I ended up with this!
Here's another example of how handy it can be to trace over photos in Draw: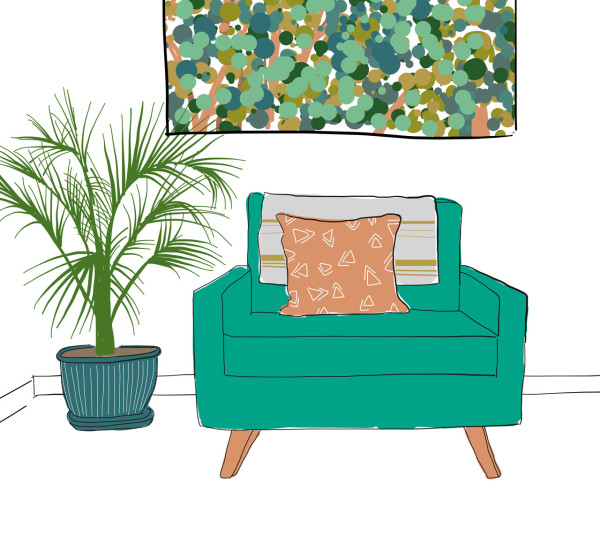 When I found this home, I immediately knew I'd feel like Jay Gatsby if I lived in it. Therefore it was the perfect subject. I took advantage of the opacity on the brushes so I could add a little depth. The best part? I created it just by tracing the photo with my FINGER.
I was inspired to create a chair pattern based on some research I did on iconic chairs. This time, I just eyeballed them from the websites I was looking at for research. I knew I wanted to turn them into a pattern in Illustrator, so I wasn't too worried about the imperfections. I like the wonky lines anyway.
Once they were drawn, I colored them in and imported the image to Illustrator using my Creative Cloud library.
In Illustrator, I made a couple of repeating patterns.
And finally, I created this city using some of the art I created using the Adobe Shape app. I was inspired by different buildings and skyscrapers and I thought it would be fun to make a "super city scape" out of them. I have the "owl building" from Austin (Frost Bank Tower), "Batman building" from Nashville (AT&T Building), the Empire State Building and the US Bank Tower.
I opened my library and stamped them in.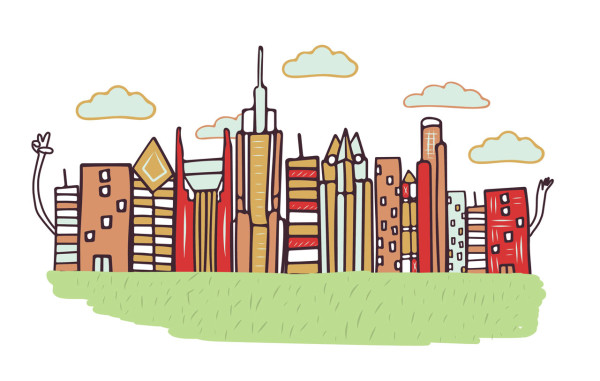 Then I colored them and added a few details like the grass and arms. The rest is history.
Download my library that contains the shapes and colors used for this super city, then go make your own:
– Download Shape Libraries
– Download Color Libraries
It couldn't be easier!
Follow process shots of Becky's #100daysofgettingstarted and more doodlers and drawings on her Instagram: @beckymsimps. Download the Adobe Draw app here.

Design From Around The Web