Drolet Residence is a minimalist house located down the street of Montreal's Jean-Talon market, designed by Naturehumaine. The clients, who are a couple with a passion for cooking, focused their renovation on two points: a large kitchen island as the emphasis of the home, and living spaces situated on the upper level to benefit more from natural lighting.
With the living spaces on the second floor, the bedroom spaces, located on the ground floor, have a much more private and intimate setting. The entrance features a double height foyer with a sculptural staircase that draws the focus upwards. The clean lines and wood accent of the staircase creates an inviting and seamless transition from the ground floor to the living spaces above.
The open-plan kitchen, living, and dining room are found on the second floor, with the programs organized around a long linear island topped by a beautiful soap stone countertop. The island is situated parallel a skylight that illuminates the countertop from above. The kitchen island breaks off towards the back of the home to reveal a second island that cantilevers into the family's breakfast table.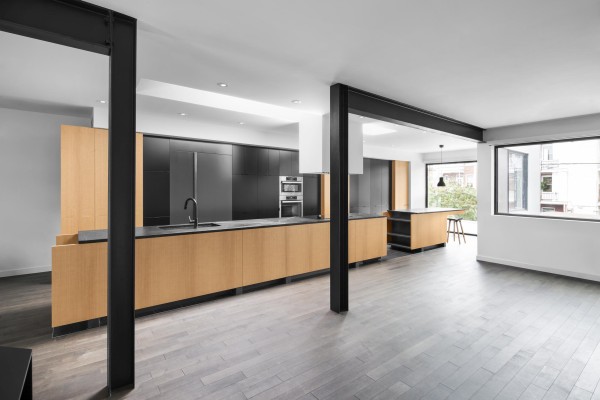 Photography by Adrien Williams