This stop on the East Side & Downtown Dwell Home Tour 2013 takes us to La Cañada Flintridge, an enclave of downtown Los Angeles, to the Kim Residence. Once a three-bedroom, three-bathroom ranch-style home built in the 1950s, this home got a massive interior and exterior remodel, complete with a 900 square foot expansion, all designed by Form Environment Research (fer) Studio in the summer of 2012.
Situated on a slope, the residence is enveloped by native redwoods and oak trees. The lush landscape surrounding the house creates an inviting habitat for such a modern home.
The extensive rock wall makes a nice transition from the house to the pool that is lower down on the slopped lot.
The high ceilings make the interior appear bright and airy, especially with the darker floors, walls, and posts.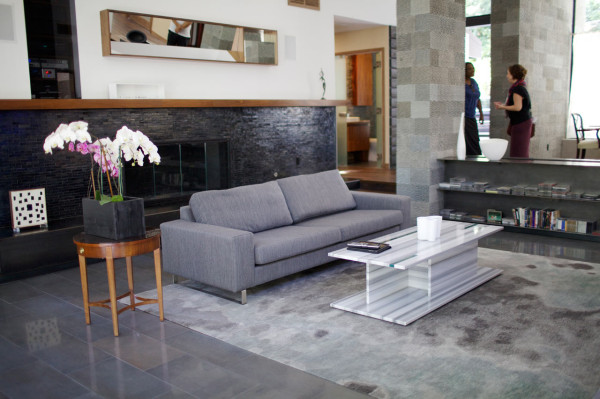 I like how they created an alcove for the TV so it doesn't stick out on the wall. It keeps it hidden unless you're sitting in front of it.
The furnishings and finishes are simple but textured, making the interior feel very rich and warm.
Photos by Christine Kim, Dwell on Design.