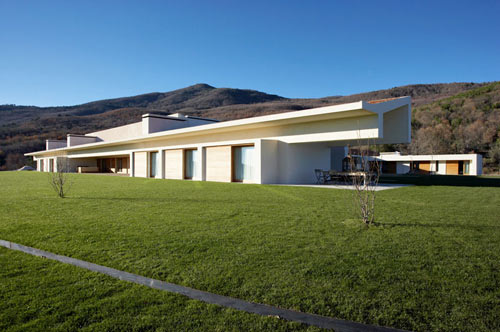 Although at first glance, this home looks like another typical A-cero project, this one has a stable! It's really a beautiful home, but that huge cantilevered patio roof makes me a little nervous.
From the architects:
A dwelling of generous proportions developed over a single storey to facilitate the indoor-outdoor connection and to make the most of the environment in which it stands. Surrounded by meadows, tree groves, chestnut, pine and oak trees and wildlife represented by stags, wild boar and roe deer, the edifice establishes a recognised link with the traditional architecture and vernacular customs. Stone, tile, wood have been used in its construction.

The sense of the architecture is to formalise the space and layout of the rooms besides representing a clear tribute to rural villages. The consequence is an open, U-shaped dwelling with a large central courtyard that shares out the uses. The principal wing houses the living rooms, dining room, TV room and children's and playrooms. In the east wing is the kitchen, laundry room and cellar and in the west wing the master bedroom. Semi-independent pavilions house the installations, riding facilities, stables and the guardians' dwelling. Two immense awnings frame the landscape.

Through an apt play of symmetries visual perspectives are created. A painstaking study of the light allows it to come in through courtyards, grooves, windows, skylights and façade openings. The courtyards help us to minimise the conditions of the extreme climate, provide colour, freshness and hold the ponds that reflect the serenity and musicality of the water.

Indoors there is a consistency in its development that offers us serene, private ambiences full of nuances and subtleties. The house generates its own environment and assimilates the best of what there is. The project arises as a response to the demands of the place.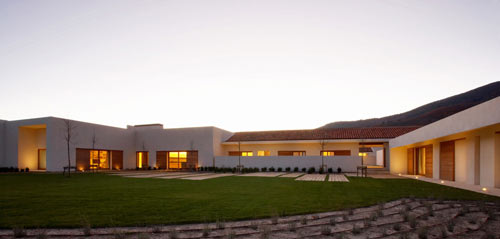 Photos by Xurxo Lobato.