Dyson Big + Quiet Air Purifier Quietly Does Its Duty Like a Breeze
Dyson Big + Quiet Air Purifier Quietly Does Its Duty Like a Breeze
1/10 Photos
2/10 Photos
3/10 Photos
4/10 Photos
5/10 Photos
6/10 Photos
7/10 Photos
8/10 Photos
9/10 Photos
10/10 Photos
The Dyson Purifier Big + Quiet Formaldehyde air purifier is unusual in that the droid-like design really leans into its larger size compared to most any other air purifier available for the mass market. But that's intentional, noting an air purifier is only as effective as its ability to utilize airflow to bring in pollutants in contact with a filtration medium to scrub the air clean. The more flow and the larger surface area, the faster the filtration rate. Dyson's trick is accomplishing all this with an acoustically engineered motor bucket optimized to hush maximum full-speed filtration down to a minimum.
So how quiet are we talking about? Dyson claims their sizable air purifier measures a very reasonable 56dBA when set at full blast. For reference, according to this decibels chart, a refrigerator produces about 55dBA of environmental noise; that's also in the realm of normal output for a dishwasher, a perfectly acceptable volume when you really need to set the unit to its maximum speed. Thus the Big + Quiet is being promoted as a healthy home and communal space solution effective for up to 1,000ft², suitable for use not only in larger living rooms, but also in a commercial edition engineered for professional environments with a slightly lighter weight and white + silver design, engineered for classrooms, hotel lobbies, and other communal spaces where a larger and more powerful unit ideally doesn't intrude on the conversations and atmosphere around it.
Though Dyson's largest air filtration design is outfitted to remove allergens and 99.97% of fine particles using a HEPA H13 grade filter, the Big + Quiet comes with the additional capability to destroy formaldehyde, remove gases and odors, and capture nitrogen dioxide. The top of the unit includes a small display that reports back what solid-state formaldehyde sensor detects during operation.
Like many other tech-forward appliances today, there's a proprietary algorithm involved in the operation of Dyson's device. The Big + Quiet is programmed to continuously monitor and report levels of formaldehyde, VOCs, or nitrogen dioxide registered in the air. In turn, we became much more aware and sensitive to the quality of air inside on a daily basis armed with this information. It became common to check in regularly with the unit's sensors either by app or at glance across its small LCD display, and the environmental feedback was just as likely to compel us to open a few windows to allow for fresh air in just as much as it did to convince us to set the unit to full blast.
One feature we really appreciated was the inclusion of the small set of roller wheels incorporated into the air purifier's base. While the Big + Quiet is not heavy for its size, its larger dimensions can make it feel unwieldy to lift for some (if you've ever dreamt of hugging R2-D2, here is your chance). But the integrated wheels simplify moving the unit room to room or into storage as easy as pushing a small cart.
If you're worried about inhaling VOCs off-gassing from everyday sources like mattresses, paints, household cleaners, some upholstery fabrics, and new furniture, alongside limiting everyday allergens, the Dyson Big + Quiet's portability and quiet operation offsets its size.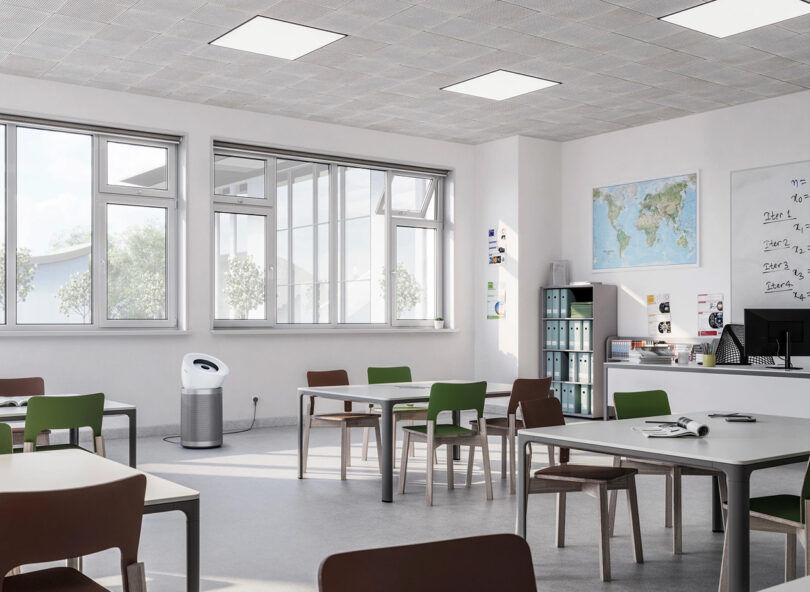 At $899 for the all-white commercial edition or $1,099 for its more stylishly finished Prussian Blue adorned colorway, the Dyson Big + Quiet comes at a premium. And there's no getting around that it's conspicuously large. But in an age when wildfires, urban pollution, and seasonal allergies are regularly vying to irritate our senses, an effective air purifier is arguably an investment worth the cost and trade-offs associated with something openly labeled as big and quiet.
This post contains affiliate links, so if you make a purchase from an affiliate link, we earn a commission. Thanks for supporting Design Milk!