We all know and love the molded plastic chair by Charles and Ray Eames for Herman Miller and the new molded wooden version is an exciting new twist in the long line of Eames molded side chairs. In 2010, Herman Miller started exploring the idea of a wooden seat and development began in 2011. In addition to a selection of three woods—white ash, walnut, and santos palisander—it comes with a choice of three classic bases: wire (often called the "Eiffel Tower") in chrome or black, 4-leg in chrome or black, or wood dowel in one of three finishes.
The Eames Molded Chair and its many iterations (its finish and base options allows for 21 different combinations) seem to parallel the Eameses' process of design: "an ongoing journey of exploration, evolution, insight and delight," according to Mark Schurman, Director, Corporate Communications for Herman Miller. The Eames Molded Chair has become a classic not only because of its famous designers, but "ultimately it's the inherent rightness of the design—comfort, utility, scale and breadth of application. Visually it has become iconic but it was the user's experience and its practical value that first established it as something special."
More than 60 years ago, the original Molded Chair became commercially available to the masses in an effort to bring attractive, good quality design to as many people as possible for the best possible value. "The best, to the most, for the least," as Charles was quoted. However, before it was brought onto the market, there were many iterations, the first of which was the 1940 Organic Side Shell in collaboration with Eero Saarinen for the Organic Design in Home Furnishings competition held by the New York Museum of Modern Art.
After this, the Eameses went on to explore single-shell design while developing plywood-molding techniques during World War II. In 1948, they had a stamped metal prototype that won second place in the Museum of Modern Art's "International Competition for Low-Cost Furniture Design". However, its heavy, neoprene-coated form proved costly to produce, so Charles and Ray investigated something new: plastic, a material that could mold into organic shapes and conform to the body—and allow the design to do more with less.
Mr. Schurman explains that it was this iteration that hit the market in 1950 as the first mass-produced plastic chair. It was not, however, the end of the design's evolution. Through the years, color and height options, shock mounts, base variations, and use of upholstery were introduced, and repeatedly refined. Additionally, the Eames Office developed a wire side chair (and its own variations) based on the same form. Manufacturing and material processes were closely monitored and frequently modified, always striving for enhanced qualities in aesthetics and durability, as well as efficiency.
In the '80s, Ray and Herman Miller first began discussion of discontinuing the fiberglass reinforced molded plastic chairs. Growing eco-consciousness led to findings that the existing material options and manufacturing process for fiberglass-reinforced plastic shells were environmentally harmful, while the material itself couldn't be recycled at the end of its useful life. Fiberglass was discontinued in 1991 and Herman Miller went on to explore sustainable solutions. In 2000, Molded Plastic chairs were reintroduced in 100% recyclable polypropylene.
Today, the landmark design has taken another step in its journey with the Eames Molded Wood Side Chair, a new expression of the ever-evolving classic, introducing wood in the timeless form via the latest 3D veneer technology.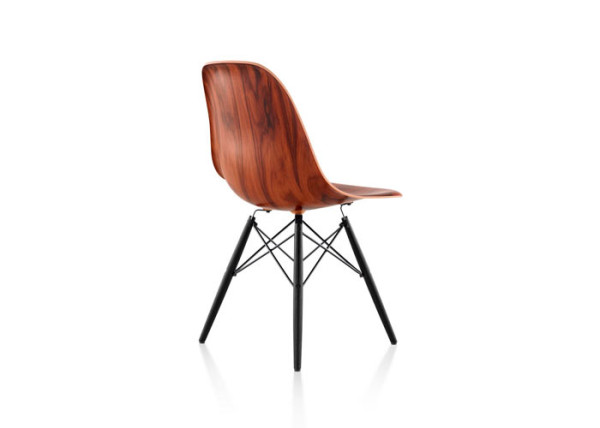 A chair design that's 60+ years old is a testament to not only how brilliant the Eames duo was, but also how flexible they were: they never seemed to stop adapting. The molded chair was extremely popular in businesses, public spaces and institutions as well as the modern home. Several hundred thousand were produced by Herman Miller in the first few decades, and a large number of knock-off and derivative designs were also produced around the world.
There has always been an appreciation for mid-century modern designs and Herman Miller's products over the years, but the real resurgence of mid-century modernism did not begin until the late 80s and early 90s when vintage pieces began gaining popularity. I asked Mr. Schurman why he thinks this is so: "I would suggest it's been in large part because of the growing consumer understanding and demand, globally but perhaps particularly maturing in North America, for good design in general—as a reflection in the quality of the user experience, the performance of the object, it's durability and also its beauty… So it's not surprising that timeless classic furniture pieces have benefited from that same growing public interest and appreciation for good design." With all these MCM designs having a new day in the spotlight, the Eames Molded Chair also came back into light.
But how does a new design come out from a duo of designers who have passed? Mr. Schurman explains that Herman Miller works internally to develop an idea that they truly believe is a new interpretation on the original design that adds value, whether it's performance, durability or sustainability. Also, new colors and materials are constantly being considered. They then confer with the design's authors or designated representatives—in the case of the Eameses, it's the Eames Office and Foundation—and work together to explore what rightly honors the original design and designers' intent.
Each chair takes about 2-3 days to make, starting and ending with a human being. A Herman Miller factory worker will choose the material and set it up. Thin, lightweight natural wood shells are created using thin layers of veneer and formed in a molding machine. CNC and other shaping machines are used to create the final edge. Once the desired form is complete, the sanding, finishing and assembly is done by a craftsperson.
I always wonder how Charles and Ray would feel about technology and their designs if they were still alive. "Delighted," says Mr. Schulman. "Delighted to see the lasting impact of their vision and the continuing evolution of their work to adopt the latest advances in materials and technologies, but most important to them would be the individual experience of the owner or user of their furniture designs. They spoke of the designer's role as a host, and the user as a guest to be cared for with the greatest sense of hospitality, and their work continues to deliver on that promise."
All photos courtesy of Herman Miller.