The Nobu Hotel Shoreditch in London is one of the new hotels that was recently added to the Design Hotels portfolio. If the name sounds familiar, it's because this property is an extension of the Nobu Hospitality Group founded by world-acclaimed chef Nobuyaki Matsuhisa, award-winning actor Robert De Niro, and Hollywood film producer Meir Teper. Inspired by East Asian design and minimalist aesthetics, the hotel lures guests in with its beautiful interiors, Japanese-inspired amenities and immaculately plated Japanese-Peruvian cuisine.
The architecture was designed by Ron Arad Associates and Ben Adams Architects and features a facade made of glass, concrete, steel, timber and bronze which contrasts against Shoreditch's traditional brick red buildings. Cantilevered steel beams point east as a homage to the country that gave this hotel its inspirations.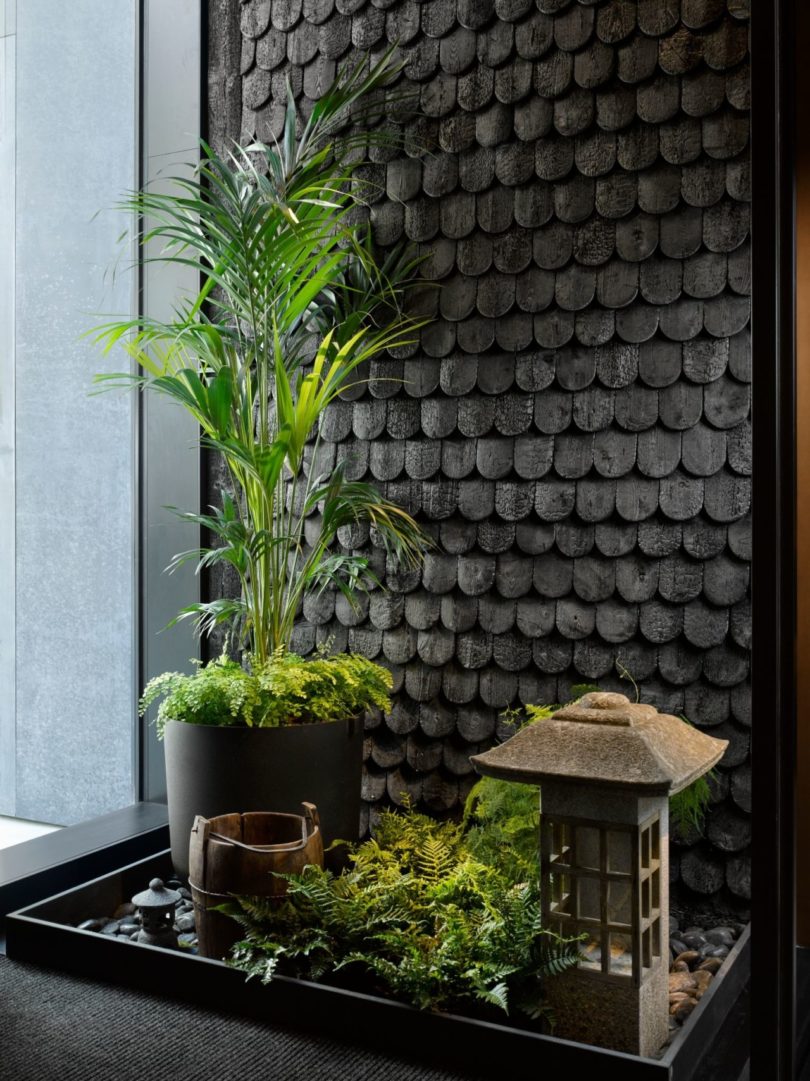 Studio Mica and Studio PCH were both inspired to incorporate Japanese culture, art and philosophy into the interiors but with a contemporary eye. A deconstructed pattern based on an ink painting technique called sumi-e appears on the walls throughout the hotel. Textures like clay pottery, wood shoji screens, traditional patchwork, and charcoal stone help to ground the look while modern fixtures/furniture and brass accents give the hotel a modern feel. Custom-made yukata robes and Japanese tea sets take the place of traditional hotel amenities in the guest rooms.
A back-lit staircase leads guests to the hotel's restaurant and bar, which features a chef's table, sushi counter and outdoor courtyard, all of which serves Chef Nobu's signature Japanese-Peruvian dishes and hand-crafted signature cocktails.
Coming January 2018, guests will able to relax in the hotel's new spa and wellness center which will offer luxury treatments, steam room facilities and treatment rooms for indulgent Shiatsu massages.
What: Nobu Hotel Shoreditch
Where: 10-50 Willow St, London EC2A 4BH, UK
How much? Rooms start at approximately $198 per night.
Highlights: This is the first hotel in London for the Nobu Hospitality Group which has created a name for itself that's synonymous with luxury hospitality and fine dining. This Shoreditch location is no exception.
Design draw: The hotel has an East-meets-West aesthetic that was created with a contemporary eye.
Book it: Visit Design Hotels