I don't often try out products but I really wanted to get my hands on — er — IN a pair of Etre gloves. They kindly sent over a selection for me to try out, and I am going to be sporting these all winter long. What I hated about my old gloves was that I couldn't use them with my smartphone. Etre's gloves are made for today's tech smartphone and tablet user – from fingerless styles to a specially woven fingertips, these will keep your extremities nice and warm while still allowing you to text your heart out.
The Touchy gloves have only the most important fingertips removed — no need for all your fingers to freeze, right? They're very comfortable and not itchy at all. I'm always worried that wool will be itchy, but they're nice and soft. But for those of you who are wool-averse, they come in leather and cashmere. Classy.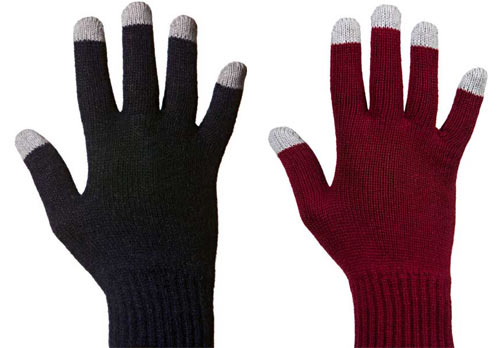 The FIVEPOINT gloves have contactwoven® fingertips, specially made to work on touchscreens. They take some getting used to, but once you do, they work like a charm.
I also made a little movie in case you wanted to see these in action:
(click here if you can't see the video)
Available in three sizes (S,M,L) and tons of color and material choices, they might be a tiny splurge at $62 USD, but I think that being warm and at the same time being able to tell your Facebook friends that you're warm is worth it. Buy them here.