A tight budget and a busy schedule were key to the design of Evernote's new offices in Redwood City, California. With 80,000 square feet to design, Studio O+A had their work cut out for them. At the forefront, the design had to stimulate creativity with a clean and light look and they chose to bring in construction materials to achieve the finished modern aesthetic they desired while remaining true to the budget.
They covered one lobby wall with water-conserving plants that are low maintenance and create a focal point without cluttering the space up.
They brought in a chalk artist, Dana Tanamachi, to reinterpret the brand's identity with its elephant logo and tagline: "Remember Everything."
The coffee bar is covered in Douglas fir plywood, an inexpensive material with a rich, graphic texture.
The staff gets to grab a donut and coffee on the way to their desks. Lucky ducks.
The break areas are clad in the same plywood adding a bit of warmth to the white walls and concrete floors.
The extra wide staircase is outfitted with cushions so you can sit back and relax on your break.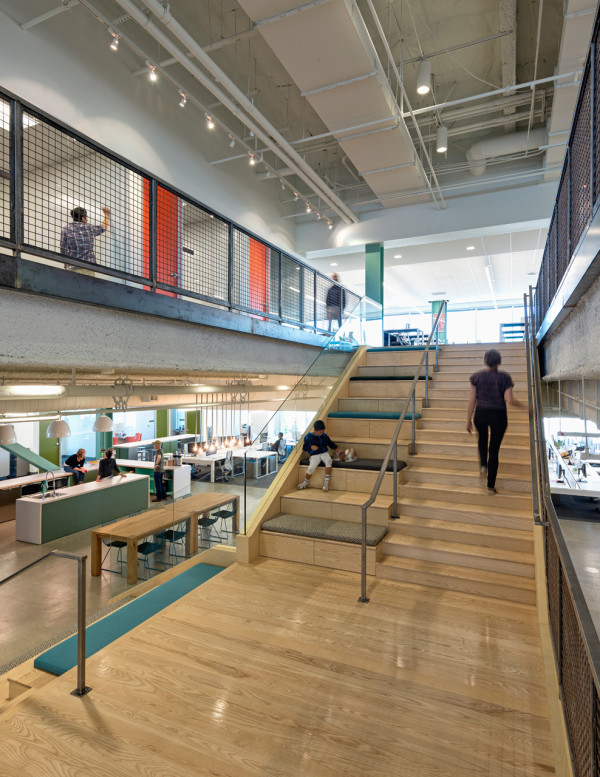 While the overall palette is white with wood accents throughout, dots of color are interjected creating a fun environment.
Break areas are set up throughout the office space in hopes of promoting creativity and interaction between employees.
There's even a fitness area for employees to use as they choose.
Photos by Jasper Sanidad.