Everything in This Warsaw Office (Including the Car!) Is Made in Poland
Everything in This Warsaw Office (Including the Car!) Is Made in Poland
1/20 Photos
2/20 Photos
3/20 Photos
4/20 Photos
5/20 Photos
6/20 Photos
7/20 Photos
8/20 Photos
9/20 Photos
10/20 Photos
11/20 Photos
12/20 Photos
13/20 Photos
14/20 Photos
15/20 Photos
16/20 Photos
17/20 Photos
18/20 Photos
19/20 Photos
20/20 Photos
Design studio Medusa Group completed the office interiors of Echo Investment, a company with a Polish heritage. To honor this, the studio made a conscientious choice to only use work from Polish designers, artists, and producers throughout the office space. In addition to the classic Polish designs from the 1950s (like the RM58 armchair designed by Roman Modzelewski), contemporary designs by Oskar Zięta, Tomek Rygalik, and Piotr Kuchciński were also included.
The front lobby includes the famous RM58 chair as well a contemporary sofa with graphic lines. The office is located on the 35th floor of the Q22 building, one of the tallest skyscrapers in Warsaw. As such, a telescope is available for guests to get a better view of the skyline.
There are various conference rooms, private booths, and informal breakout spaces for employees to meet or do heads down work. Murals with graphics related to investments made by Echo Investment adorn the walls.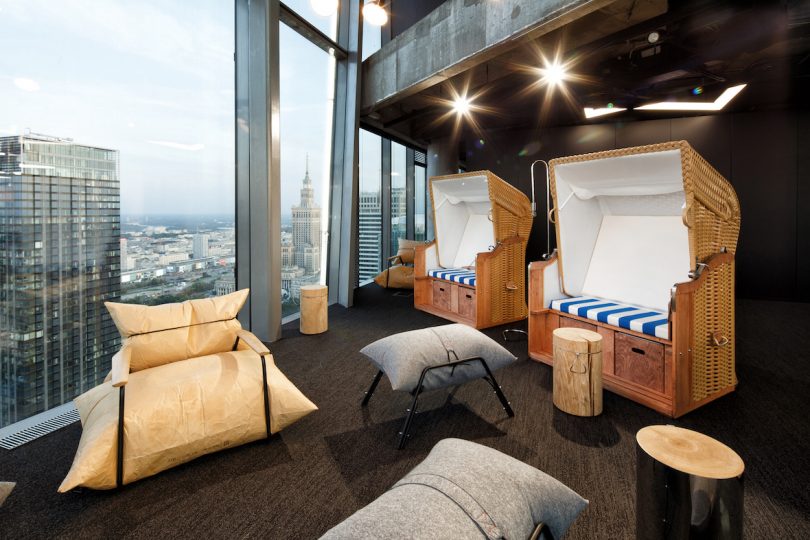 Objects sourced for the project are also from individual regions of Poland, including chairs from the mountain lift in Szczyrk, beach baskets from Sopot, and the most popular Polish car, the Fiat 126P.
Photos by Tomasz Zakrzewski.