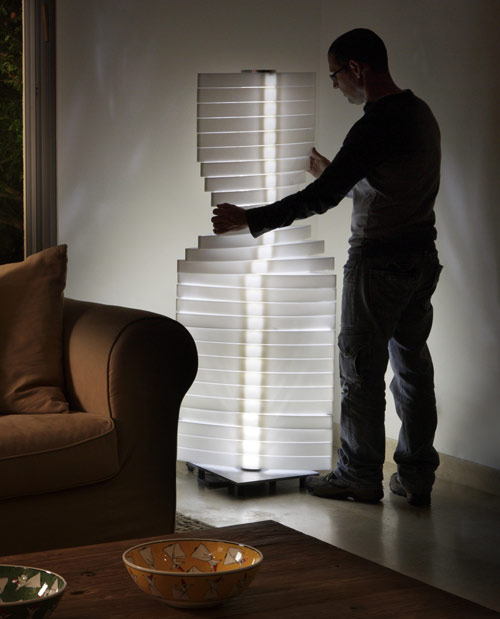 Gladys Nistor sent me over photos of the Nistor & Nistor Evolutive Design Collection, which features lamps with elements that can individually rotate up to 360° around their axis and create an infinite variety of shapes. Nistor & Nistor are siblings Gladys and Gabriel who have very different backgrounds: Gladys as a sculptor, and Gabriel as a High Tech Industrial Engineer.
The idea behind their designs was to create a playful and interactive collection that invites the user to reshape it. Gladys says, "The lines where inspired from the concentric unbalances from MAD Architecture on his project 'Urban Forest,' combined with the simple elegance on a Coco Channel Nº 5 flacon or the classic smoothness on Artdeco design in general." Gabriel explains that they also wanted to create a piece that had a longer lifespan that a normal item — "The longer the time the object communicates with you and surprises you, the longer you will want to keep it, which in turn contributes to reduce waste as well as resources consumption levels."
The collection consists of three lamps: Magna, Opus, and Tempo.
Magna
Tempo Agitato
Opus Moderato
Opus Presto