This home in the Czech Republic began as an empty space with just the central staircase installed right in the middle of the ground floor. OOOOX were hired to renovate the interior, which included revamping the layout and creating a new concept for the interior that was inspired by the homeowner's love of Scandinavian design.
The living room's sofa is made up of a set of cushions that sit on a white, U-shaped platform.
A monochromatic color palette of black and white pays tribute to the client's time spent in Norway. The original ceramic ceiling remains exposed and in white, which continues to the wall color.
Instead of your average bookcase, they used a series of open and closed square components in white, black, and oak for storage.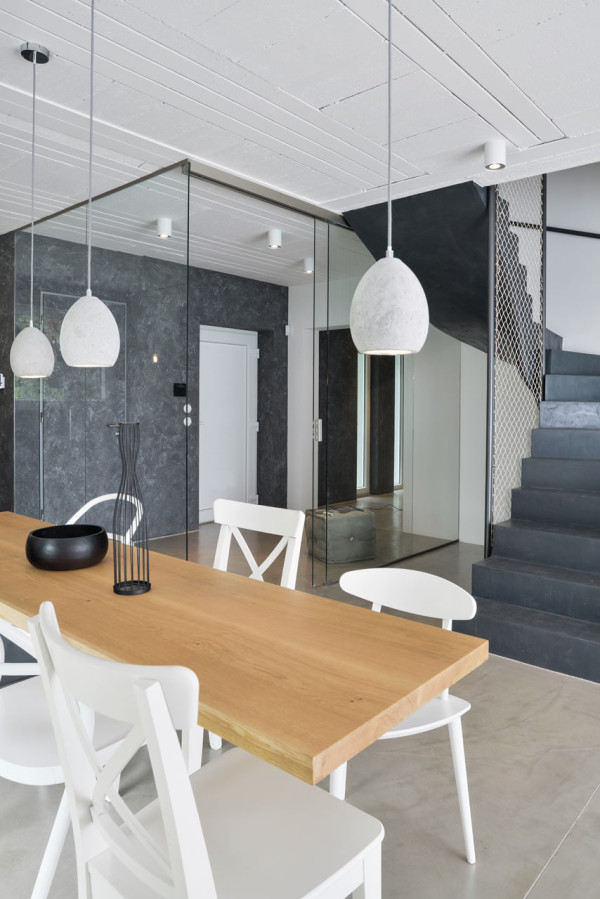 Floor-to-ceiling glass walls separate the entrance from the main living room and kitchen, with a panel that slides to open it.
The dominant staircase is covered in an anthracite screed with a divider that is made of cotton netting.
The kitchen flows around a central, black island with white cabinets built into the exterior wall.
The main bedroom is open and airy with a bookcase that acts as a divider.
The wood floors extend halfway up the wall behind the bed acting as a headboard.
The black bathroom is left open to the bedroom and is quite the contrast next to the white and wood bedroom.
Photos by Martin Zeman.