So I bet you're wondering what we've been up to at the house… we're almost done with the nursery, which we'll share at a later date, but in the meantime, we also decided to spontaneously redo our family room. You've already seen the TV wall, but now for the rest…
I think I mentioned before that the family room is a converted garage, therefore it had some unfortunate issues, the main one being a series of pipes sticking out of one of the walls. We spend a lot of time in this room and there was no way I was sharing a room with those pipes for much longer. I wanted this to feel like a cozy, comfortable homey space, not a utility room.
We consulted with a few plumbers and contractors before deciding it was best to leave the pipes alone and build out the wall. But we couldn't stop there… Two of the walls had old paneling and the other wall was pretty busted up so we just decided to drywall the whole darn room.
A week and a half later, it was time to paint. We've painted so many houses and apartments over the years, we're pros but not when it comes to picking paint colors… However, this time, choosing the right colors was actually much easier than expected.
The TV wall is Sherwin-Williams Iron Ore, the three remaining walls are Nacre, the fireplace is Pure White, and the ceiling is Ceiling White. I am so happy with the results, especially Nacre. Whenever I choose a neutral cream color, it's always too brown, too peach, or too yellow, but the Nacre is just perfect. I'll probably use it elsewhere in the house.
Then it was a matter of putting on some new door handles – we ordered all the door handles for the whole house at once to avoid a style being discontinued. They're Kwikset Polo.
When we moved in, we installed new carpet: Martha Stewart Chatsworth in Gray Squirrel. We also purchased the ginormous couch from a chain furniture store. The sconces are Orbit by Lzf. The gray circle stitch pillows are from Bholu, and the ottoman was a floor sample. I'm not crazy about the ottoman fabric color, but it was such a bargain and the perfect size. I think it's a good idea to just leave it as-is until our child is a bit older. I can see it now… stains ranging from jelly and magic markers to Playdoh and chocolate sauce. Moms, am I right? Then maybe in a few years we can reupholster it in a fun fabric from Henry Road or Marimekko or just get something else.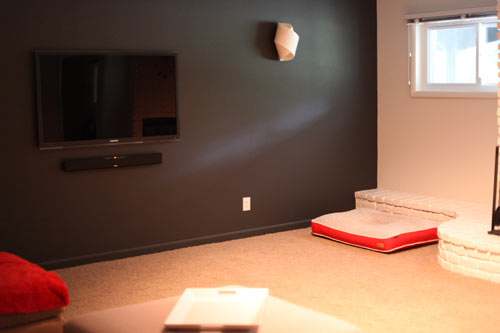 There's a noticeably bare section of the room as you can see, but that's for play mats, playpens, and the expected explosion of toys and nonsense that comes with having a baby. I'll keep you posted on how much of a disaster this side of the room becomes!
We also need to get some side tables (I'm thinking a C-table), artwork, and a new clock for the fireplace (it's so loud!). I'm saving my pennies for a Nelson walnut Starburst. Plus, that hideous brass fireplace cover has got to go. Blech. Needless to say, there's still a ton of work to be done in the room. I'm open to suggestions…
More photos:
Apologies for the poor quality photos – I'm still learning how to use my new camera.
Thanks to our partner Sherwin-Williams who provided us with the paint for this project.