At one time, headphones were specifically designed for one task: listening to music in the privacy of one's own home. The headphones of today have evolved into multi-functional audio accessories – more likely found at the desk rather than the den – built with microphones for call functions, designed to be as much fashionable and functional, and increasingly shipping sans a tethering cord, thanks to Bluetooth wireless technology. But for designers and other creatives, it's not uncommon for headphones to never leave the desk, too often left out or thrown into a drawer.
As believers in the axiom, "a place for everything, and everything in its place", here are six of our favorite current wireless headphone models paired with complementary stands:
1. Bowers & Wilkins P5 Wireless Headphone \\\ Master & Dynamic Stand:
Premium materials and class leading technology are hallmarks of the Bowers & Wilkin's catalog, and their Bluetooth aptX P5 wireless headphone is no exception. 17 hours of use between charges is not only possible, but comfortably so, thanks to the cushy-soft leather ear pads adorning these dual microphone headphones which listen in as carefully as they playback with confident gusto during music playback or phone calls. The P5s offer an on-ear design, but the fit is so snug and secure, they do a fair job of blocking out ambient sounds even with the unit completely off, and it was easy to forget I was wearing these while working throughout the day without listener's fatigue. The Master & Dynamic's minimalist electroplated steel stand with knurled extension grip and rubber padded weighted base makes for a fitting partnership, crafted to be elegantly utilitarian and allow these headphones take center stage.
2. Definitive Technology Symphony 1 \\\ Heckler Design Headphone Stand:
Comfort and ambient sound negating technology are front and center with these larger dual-mode active noise canceling headphones. Rated for 15 hours of playback, Definitive Technology's wireless headphones negate intrusive ambient noises while never tainting the soundstage produced by the 50mm drivers during playback, a solution for noise proximity issues in a shared space/office. Heckler Design laser cut steel design is as much a display as a stand, and available in 6 colors, including either black or chrome…both which would make for a fine match with the Symphony 1.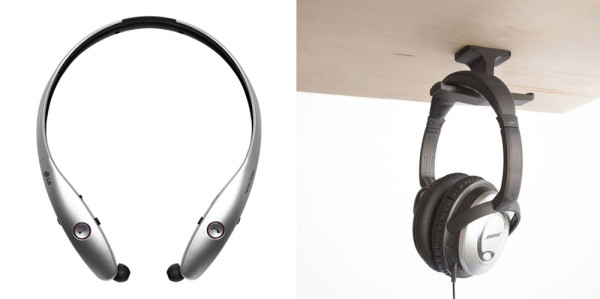 3. LG Tone Infinim \\\ The Anchor by Elevation Lab:
LG's headphone is a most unusual design in the wireless headphone field. Not quite headphones, not quite earbuds. A wireless headset with retractable earbuds, the cords slide back into a headset case and is meant to be worn around the neck, a sort of technological jewelry. Bluetooth aptX equipped, users can rely on the Tone Infinim for 17 hours of talk time before needing a recharge or up to 14 hours of music. The Anchor is an under desk "hook" design which holds up to two headphones (and other lightweight accessories), adhering to any smooth surface using a ultra-strong adhesive. Its barely-there design is a natural fit for the lightweight LG headset.
4. BeoPlay H8 \\\ Mr. Bubble:
The BeoPlay H8's materials list reads like the makings of a fine automobile: lambskin, leather, lightweight aluminum, with sound dampening technology. The Danish audiophile brand's premium wireless headphones are indeed akin to a luxury car, but one designed to be enjoyed equally while stationary and in-transit, offering high quality aptX/A2DP wireless playback, noise cancelation, and an innovative finger tracking touch interface for playbacl controls which works even with gloves on. Audio playback is especially complementary for bass-oriented tunes, whether connected using an included cable or in Bluetooth 4.0 wireless mode. A flagship headphone like these deserve something special and the Mr. Bubble fits the bill, each stand a unique mouth-blown glass sculpture/stand.
5. Jabra Move Wireless \\\ Elago H Stand:
Jabra's smaller Scandinavian modern design has a lot going for it considering you can nab one on Amazon for under $70. Though not as premium in spec'ed as the other models listed here, these sporty-urban wireless models are ideal if you need to wear a headphone throughout the work day (up to 8 hours of use), whether for listening to music or jumping onto a phone call. The Elago H Stand's silicone tip pads should play nice with the Jabra's cloth covered headbands and will look particularly complementary next to any Apple setup.
6. Sennheiser Momentum Wireless \\\ Bluelounge Posto
There are few headphone brands with audiophile bona fides like Sennheiser, and their second iteration of their Momentum wireless headphone (available in both an on-the-ear or over-the-ear designs) is a powerhouse of features and premium materials. NoiseGard Hybrid active noise cancelation hushes annoying ambient noises, but even before then the headphones luxe ear cups do an excellent job of putting music or voice front and center. The collapsible design also allows for compact storage, but we'd argue these models deserve to be proudly displayed on something like the Bluelounge Posto, an aluminum bodied headphone stand with a modern design which looks equally great with or without a headphone placed upon it.