MCK Architecture in Surry Hills, Australia, is known for its geometric forms and innovative use of materials, as one can easily see in their design for the Flipped House in the eastern suburbs of Sydney. The residence, home to a young family, integrates indoor/outdoor living to perfection. Design Milk chatted with principal Steve Koolloos about some of the structure's unique details.
A growing and very active family of four call this home. Koollhoos says that while the concept of the "family home" was key ("it's a  genuine place for them to rest, bond, and enjoy each other's company"), it was essential that the design be sympathetic to the style of the house that previously occupied the site, built in 1964. The new design is a contemporary version of the original.
The house is stratified over three levels. The lower ground floor plinth is solid sandstone , the mid-level is timber, and the top floor is done in a lightweight cladding with render and paint.
Whereas the original home was situated toward Sydney's Central Business District, the new structure offers spectacular views of both the city and the property's luscious rear garden.
The bottom of the pool is a slate mosaic. The wall bordering the outer edge is constructed from a rather pedestrian material: concrete blocks typically used for structural walls. The decision to use them was influenced by the existing rear boundary fence, also built of concrete block, albeit a more ornate style. This new concrete block wall references the past, and allows for privacy as well as cross ventilation.
Concrete blocks line an exterior plank-like walkway. The chain hanging down in the photo on the left is not a drawbridge mechanism, but rather a chain that acts like a down-pipe to take water from the entry roof to the pond below. This is another tribute to the era of the original house. As for the drawbridge concept, Koollhoos reveals, "we do have another project with a drawbridge leading to the master bedroom." Oh, do tell!
A spare and spacious entry.
A simple and solid floating staircase.
The kitchen island looks as though it were carved from a single piece of stone. It's actually made of steel trowel finished concrete.
The kitchen opens onto a patio made for entertaining. There's even built-in seating.
The upstairs hall overlooks the kitchen and looks out to the patio.
MCK did the interior design, but the homeowners selected the furnishings. Quite well, might we add. Koollhoos says, "She has a great eye for the style of the house, hence the collaboration was a great fit."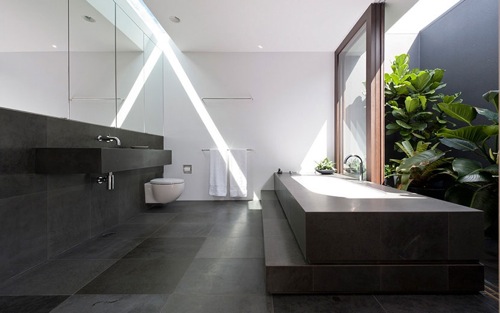 Such an expansive and dramatic en suite master bath, and look, the oversize slider opens to the outdoors. Love. The material is basalt tiles and slabs. (Basalt is a common extrusive volcanic rock, by the way. Thank you, Wikipedia.)
…because even in Sydney it rains sometimes.
Photos by Willem Rethmeier.

Design From Around The Web