Taking a dip in the water is a must for anyone traveling to Italy, but rather than jumping into the ocean off the islands of Capri, why not head inland and take a swim at the Hotel Hubertus, a modern hotel nestled at the the foot of the Kronplatz in the Puster Valley of Valdaora? This new pool designed by noa* (network of architecture) gives guests the impression that they are floating between heaven and earth in a UNESCO World Heritage Site, the Dolomites.
The pool rests in between the two accommodation wings of the hotel and has hidden edges that makes it seem like it's a floating anthracite-colored stone blending into the surrounding landscapes. A glass front and glazed window at the bottom of the pool further reinforces the feeling of floating.
While the pool is certainly a highlight of the Hotel Hubertus, there is more to appreciate out of the water. The same native larch tree trunks that support the pool alternate in a pattern as an additional element to the facade of the hotel, giving off a contrast of old and new. They visibly divide up the building's fluid shape that seems to mimic the topography of the landscape and also function as sun screens, room dividers and rain protectors.
The hotel also features 16 new suites, a new kitchen with restaurants and "stubens" (kind of like living rooms), a wine cellar, a fitness center, and a relaxation room with terraces boasting panoramic views of the mountainscape of an UNESCO World Heritage site, the Dolomites.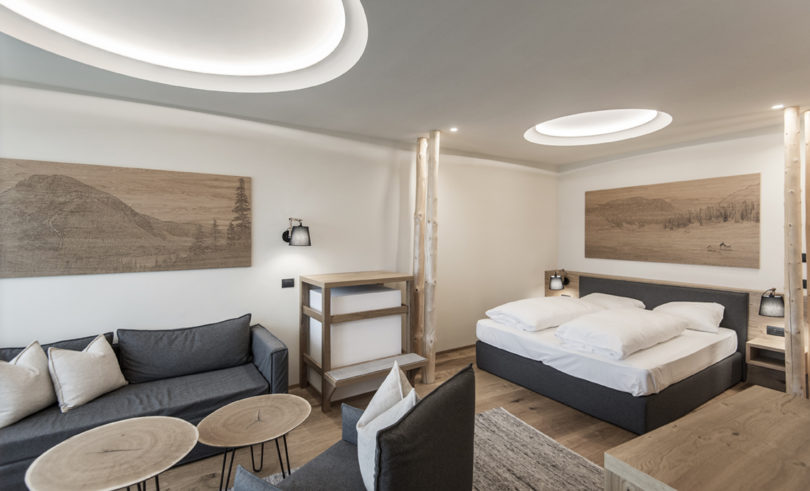 The rooms are accented with art illustrating the outdoor surroundings, miniature tree trunks, and modern furnishings.The same warm brown and cool anthracite hues from the exteriors match the interiors of the guest suites, blurring the lines between indoor and outdoor.
What: The Hotel Hubertus
Where: Via Furcia, 5, 39030 Sorafurcia – Valdora BZ, Italy
How much? Rooms start at approximately $279 and are only available upon request (no online reservation system)
Highlights: While there is much to be enjoyed throughout the property, the cantilevering pool is probably the crown jewel of the hotel.
Design draw: noa* designed the Hubertus to juxtapose old versus new, modern hospitality versus untouched nature. You can see this before you enter the hotel from the design of the facade.
Book it: Visit the Hotel Hubertus