A family of snowboarders longed for a weekend retreat in Whistler, Canada, in a neighborhood known for 1970's A-frame and Gothic arch cabins and chalets. To realize their plans, they hired Scott and Scott Architects to design an A-frame cabin on a steep sloping rock bluff just north of Whistler village in a more modest size that reflects the original scale of the early structures the neighborhood was known for.
The 178-square-meter (1915 square foot) cabin is built into the bluff so the entrance is placed on the lowest level. There, you'll find a gear drying room, winter and summer equipment storage, a bathroom, and laundry.
Making the most of the view of the mountains, the living area and kitchen faces the windows while being backed into the hill on the backside.
The structure is made of an exposed frame of locally sourced douglas fir that sits atop a concrete base that's anchored to the rock.
The cabinets were built onsite with locally sourced, construction grade plywood, while the countertops were fabricated from marble that's from a quarry located on Vancouver Island.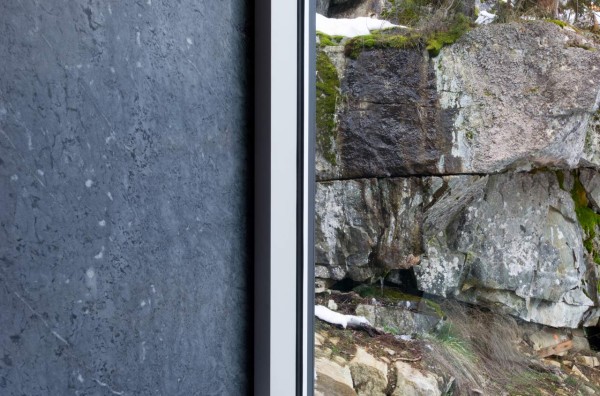 The roof is covered in red cedar shakes that will change over time to resemble the surrounding rock.
Photos by Scott and Scott Architects.