Continuing with the Fresh Perspectives artist series brought to you by the new, edgy Lexus CT Hybrid, I talked to Augustine Kofie, an LA-based painter and collage artist whose work is street- and graffiti-inspired. However, there's a more notable aspect of his work — the "drafting." His use of shapes and angles are reminiscent of architectural plans, but more badass. I can even see influence from typography, DaVinci and the 1960s and 70s. Like a broken mirror, each shape seems to build an reflect off of the next, and at different views you see hidden objects. There's a ton of movement in his work, too, as though he's trying to draw music.
His work has been featured in commercials, music videos, and various art shows all over the world. He has a solo show this Fall at White Walls Gallery in San Francisco, CA.
When did you first begin making art and what were some of the first things you created?
My mother studied art at UCLA during my youth so there were always supplies around. I did the basic kid drawings, nothing crazy. I didn't excel in drawing till about my middle school days when I was receiving high marks for art, higher then my general academics most of the time. My drawings gravitated toward war ships and anything skateboarding related since that was my primary sport of choice during those days.
What sparked your interest in architecture and drafting? Usually a draft is the design for something else, the means to an end. What makes you so interested in the process of drafting as the end result?
When I started to craft my graffiti letter styles in the late 90's I tended to go in a more linear direction. I was stretching the letters out and rebuilding them, giving them varied points of perspective and basically building shapes out. I realized I loved Wildstyle Graffiti lettering because of the construction factor, the drafting of sketching all new adjusted letter forms. I went with that idea but evolved my letters into abstractions with focus on the linear aspects. It all sounds technical but to me it turned out to be a natural evolution and growth.
You've done murals, paintings, drawings, worked on music videos and commercials…what is your favorite type of medium?
Illustration is my first love. ink on paper. It's the most accessible and portable medium for me + the majority of my larger works all begin with my line work sketches and studies.
How do you select the various items that go into a collage or 3D piece?
I thinks its best to say the items I used in my collage find me. I make a strong effort to dig for ephemera and dated images as both inspiration and incorporation in works. It's harvested and frequently sorted through just before I plan a collage piece in the studio. I may be inspired by color, texture or subject matter.. it's all open.
What are you working on right now?
Right now I'm spring cleaning the studio. Clearing out and making room for new works for shows in Europe and North Africa. I'm finishing up a piece for the the group show Street Cred: Graffiti Art from Concrete to Canvas at the Pasadena Museum of California Art opening this May. Also slowly getting back into screen printing for Drftsmn.com, my T-shirt project I began in 2001.
Why did you decide to become involved in Fresh Perspectives?
I've been pretty blessed with opportunities to share my work with audiences that might not get to see or know of me in general. Here was a chance to share my contributions and perspectives in this culture and add a bit of color to the mix, as well.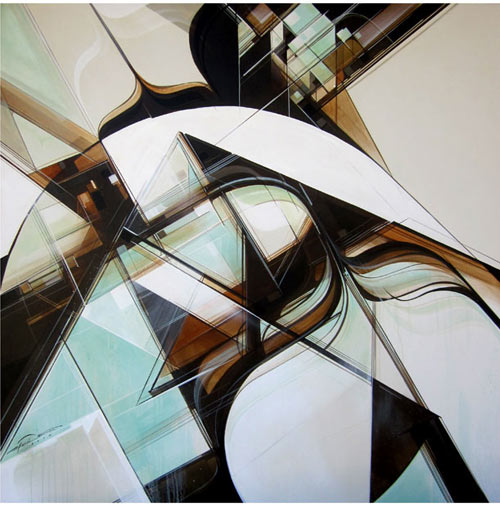 What was the most challenging part of creating a piece of work in 24 hours?
Not that challenging, actually. I have works that have taken me months to complete, some have taken hours. I planned these pieces based on a time schedule and it all worked out just fine as long as everything I need is prepped and at hand. Just because I can work fast doesn't necessarily mean its not going to come out proper.
If you could collaborate with one of the other Fresh Perspectives artists, who would it be and why?
I respect the craftsmanship and skill that goes into proper men's cut & sew works. If the opportunity showed itself, It would be interesting to collaborate with Robert James. Style wise I am very "Utilitarian Chic." I could see some of my line works translated as light prints strategically located on an outerwear jacket made from re-claimed military canvas. Or a specially designed shoulder to accommodate an artisan. Designers and painters tend to click very well.
The final reveals are here! Check out Augustine's creation for "Escape": Mood Swings.
See more at freshperspectives.msn.com and stay tuned for the final artists interviews and bios next week.
Design Milk has partnered with Lexus on Fresh Perspectives, a series that highlights work by six artists from different disciplines. Each artist created two pieces of art based on three themes — Challenge, Empower, and Escape — and each piece was made within 24 hours. Thanks to Lexus, this project not only supports art but also helps support Design Milk's efforts to promote emerging artists.

Design From Around The Web