Thomas Overthun is not only a Design Director, but he's an Associate Partner at the Bay Area design firm IDEO, where he's worked since 1993. Before calling IDEO home, he began his career at moll design in Germany before working on the internal design team of Dutch electronic company Philips. Since joining IDEO, his expertise has developed in the realms of contract furniture and ergonomic seating, office and consumer electronics, kitchen tools and appliances, personal care and sports products, while working with clients like, Cisco, Microsoft, Oral B, OXO, Proctor & Gamble, and Steelcase, just to name a few. His work has been widely published and exhibited at the Cooper Hewitt Museum in New York City and at the Chicago Atheneum. For this week's Friday Five, this busy industrial designer sheds a light on things he loves that can be found in his home.
I am an industrial designer, and I think a prerequisite for this job is to love stuff. You have to love stuff to make good stuff. So here are some of my things that can be found in my home:
1. Wedding containers
I have a group of very good friends who all met at Philips Design around 25 years ago. When the first one of us got married, we designed a table with four different legs as wedding gift for the new couple. Neither one of us knew what the others were designing, so when we presented the gift it was a surprise for everyone. This became a tradition and several 'wedding objects' were created over the years.
When my wife Renee and I got married three years ago, we were hoping our friends would come through, and they did. The theme was containers, including: a 'kissing' pair of salt and pepper grinders by Khodi Feiz; a glass jar with wedding ring handles by Roland Bird; a round jar with a red lid by Roger Swales where all the dimensions are based on the couples data; and an 'unstable' hollow brass pebble by Oscar Pena, which will wobble but always re-finds its balance and needs occasional polishing, just like a marriage.
2. Chair
This small chair has been in my family for a very long time. I chose to bring it to San Francisco after my parents had passed away, for both emotional and practical reasons. I have known this chair all my life, and it is a very simple chair that comes apart easily with no tools, so it can be shipped flat.
3. Tongs by Sori Yanagi
I love cooking, and have designed a bunch of kitchen tools, so I appreciate the difficulty of designing (or trying to, in my case) a perfect tool. I think these tongs are perfect in their simplicity and sophistication.
4. Blue blazer by Ami
I love blue blazers because they always work. It's good to have several — this one has a nice textured, somewhat denim-y fabric. Renee picked it.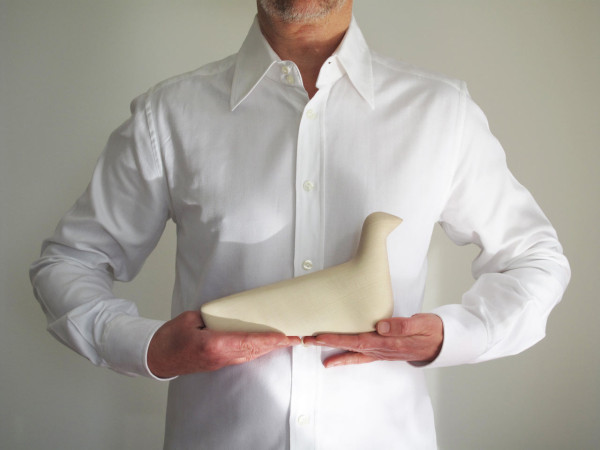 5. Bird by Ronan and Erwan Bouroullec, Vitra
The latest object I cherish: I recently celebrated my 20th year at IDEO. Not only was I given an exhibition and reception at our San Francisco waterfront office, but my colleagues presented me with an engraved wooden bird by the Bouroullec brothers. It has a calming effect, whether you look at it or hold it. Our son Vincent loves to lick it.
Photos by Renee Mifsud Overthun.