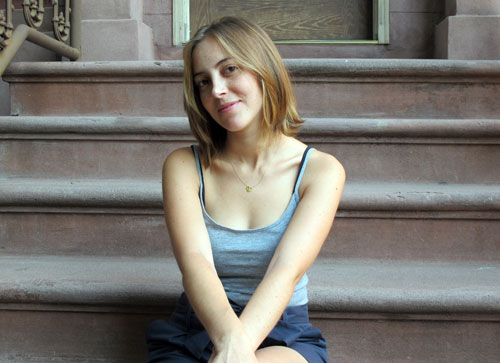 Ana Linares is a Brooklyn-based designer born in Miami and raised in Bogota, Colombia. She moved to New York to pursue her degree of Industrial Design at Pratt Institute. Ana's designs are the result of her sensitivity to material experimentation and love for creating folding shapes inspired by organic forms in nature and origami.
While developing her own designs, she has worked for the past years with recognized companies and designers such as Knoll Design, Karim Rashid and Mark Goetz. Ana's designs have been viewed in numerous exhibitions including New York's ICFF, 100% Design London, Brooklyn Designs and Art Basel Miami.
Some of her awards include the selection Ana's Conversation Chair by Tom Dixon and other jurors for the 100% Futures exhibition — part of 100% Design London — during London Design Week in 2007, and that same year, Ana's magazine rack design won second prize in the annual Umbra/Pratt Design Competition. In May 2010, Ana's Duo Bookshelf received an honorable mention in Design Within Reach's annual M+D+F (Modern + Design + Function) competition and was on display at DWR's Flatiron studio during New York Design Week. Since then, it has been receiving quite a bit of press from Daily Candy to Apartment Therapy.
My favorite things are objects and processes that inspire me when I look at them; they all have a sensible quality and a richness of texture and form.
What I like now:
1. Reversed Volumes
Reversed Volumes is a set of ceramic bowls by Viennese designers Mischer'Traxler that capture a fruit's imprint. The vessels are made by packing ceramic powder around vegetables where it hardens without firing, leaving a detailed imprint inside each bowl. This is an interesting approach to texture; I really appreciate objects that can give you a tactile experience and detail. This one in particular, reminds me of playing with Play-Doh when I was a kid.
2. The Oyster Collection
Stephan Diez's collaborated with his wife in the creation of The Oyster Collection for the German jeweler Jens Biegel. Sheets of 18 karat gold where laser-cut into links that wrap around semi-precious stones or pearls. The process of laser-cut metal is something that I have always been attracted to because it gives you a unique quality and lets you play with the material like paper. This ring is one of my favorites because of its elegance and simplicity.
3. Paper jewelry by Nel Linssen
Dutch designer Nel Linssen's paper-craft jewelry has a high level of complexity and detail to texture. By simply cutting and folding, she creates exquisite layered textures that take paper design into a whole new level.
4. Toilet plunger coatrack
Armin Fischer has found a brilliant idea to turn a toilet plunger into a functional shirt/coat/jeans wall hook. Although you need a hanger to let your shirts stay with the plunger, the idea of twisting the function of every-day objects into something like this is very clever.
5. Magnetic curtains
Florian Kräutli has created this beautiful magnetic curtain which you can shape into any form. Through the incorporated structure and magnets, it stays in the shape you push and pull it to.

Design From Around The Web