Bluebottle Art Gallery and Store is an art gallery and boutique focusing on independent handmade art, craft and design located in the Capitol Hill district of Seattle, Washington. In business since 2002, it is owned and operated by husband and wife duo Andrea and Matthew Porter. The gallery section features monthly solo or group shows focusing on emerging artists who have a pop sensibility. They specialize in showcasing amazing and affordable artwork to a market that is just starting to collect work. The boutique section features items which are handmade and often one-of-a-kind, or produced as limited edition runs.
Andrea and Matthew met in Edinburgh, Scotland. One short year later they were married and are now living happily ever after. Andrea grew up in Wisconsin and graduated with a degree in Sociology from the University of Madison, Wisconsin. She currently is on the organizing committee of Grassroots Business Association. The organization is for both aspiring and current small business owners. Their purpose is to: educate, inspire, empower, network and support people pursuing an independent career path.
1. Trish Grantham
Being an art gallery owner I get to see lots of art so it is always super hard to pick favorites but Trish is definitely up there. We have a few of her smaller pieces up in our living room which is a pretty coveted space in our house. Trish uses a variety of media and acrylic paint on wood panels with a super glossy resin finish which really makes the pieces pop. Trish has created a cast of doe-eyed characters in her works with my very favorite being a simple, tender-hearted piece of toast. We are excited to be showcasing a solo show of her work at Bluebottle this month.
2. Chris Crites
Generally, I like cute or pop inspired artwork but I am continually drawn to the artwork of Seattle based artist Chris Crites. His paintings make me want to hear the individuals story, their history and how they got to that particular point in their life. Chris' incredibly meticulous work draws on old mug shot source materials. His pieces depict an array of characters from pick pockets, con artists, to thieves and prostitutes.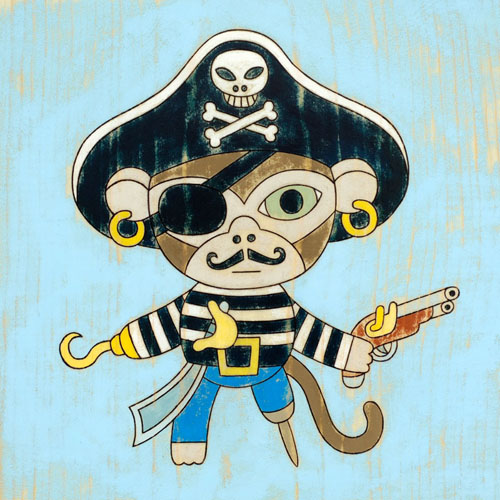 3. Matthew Porter
I would be remise if I wrote about some of my favorite artists and did not include my husband. Matthew's is a children's book illustrator. His work has a sense of vintage charm and have a well-loved sensibility to them. They feel classic and timeless at the same time as feeling modern and almost edgy.
4. Julie West
Julie creates most of her work digitally typically a medium I am not drawn to as it can, at times, feel flat but Julie's characters feel full of life and intrigue. She most often creates women in uncomfortable or awkward situations but rather than ponder their circumstances I just feel drawn to their strength and genuine nature as individuals.
5. Drake Brodahl
We met Drake at least 5 years ago now when he built our old site for Bluebottle. We have since updated but I feel lucky to have made such a serendipitous meeting as Drake has become a burgeoning artist in the Seattle art scene. His whimsical, character-driven paintings reflect his sense of humor and love of mid-century children's books and cartoon backgrounds. We will be showcasing a collection of Drakes work in our gallery this September.

Design From Around The Web