Dan Black and Martin Blum founded Black + Blum in 1998 and are based in London. They design, source and market their own range of products which are now sold in leading design stores all over the world.
Martin and Dan picked things with they think improve their quality of life.
1. Labour and Wait
Most of their products are great examples of solutions that work perfectly well and with no need of modern technology. Moreover, they are usually made to last and therefore giving the item the ability to get better with age. It is that ability, in our view, that elevates a product to gain character and soul. You start to care about it in a different way. Every such product can add to your home's aura. Very inspiring.
2. TED
This is a great collection of some of the best talks on so many relevant subjects. As industrial designers this is such a great source of inspiration. It is not only the cutting edge technological visions but the philosophers and intellectuals that so beautifully explain our world around us. We always have a few talks downloaded onto our phones to keep us entertained on our commute to work.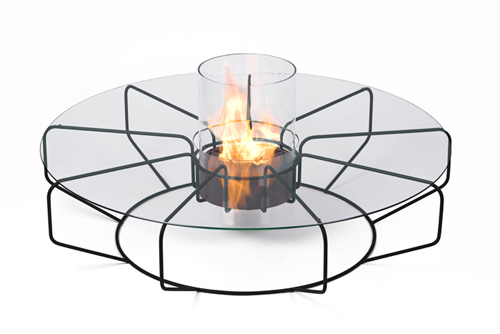 Photo: Planika Fires
3. Fire
Whether it is a campfire, a social BBQ, a wood burning stove or any other form, fires always manage to create a magical focus point. No TV or any other screen can replace what a fire does to us. The way it can warm you up not just in a physical sense. It is social but also a great form of meditation. You could stare for hours into the glow of burning wood. It can feel as essential as food and drink.
4. Pets
Dogs have been described as "man's best friend" and whether its dogs, cats, pigs or any animal, all pets offer a kind of uncomplicated and unwavering companionship. It has been scientifically proven that stroking a cat can reduce its owner's blood pressure and pets generally create a kind of symbiotic relationship which benefits both parties. Dan has two Rhodesian Ridgebacks and thinks there is no better way to clear his brain and think creatively, than taking them for a long walk early in the morning.
5. Pen & Paper
Many designers today rely too heavily on the recent advances that have been made in three dimensional design programs. There is no denying that these programs can help develop an idea into physical form, but the starting point of any idea (aside from your own imagination), should always be a pen and paper. Although a pen and paper is very basic, it would definitely be in the top five items we would take to a desert island and we always find time flies when I am immersed in sketching concepts. Although a blank piece of paper can be daunting to a writer with a mental block, as a designer you should stare at a blank piece of paper with anticipation at what ideas might form from the jumbled images floating in your imagination.
There's more Friday Five goodness right here.

Design From Around The Web