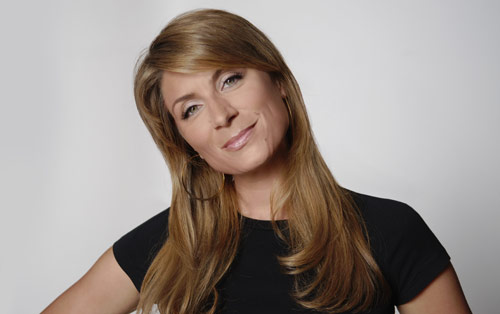 This week's Friday Five is from Genevieve Gorder: designer, HGTV's Design Star Judge, and host of Dear Genevieve on HGTV.

Summer, the most sensual season of them all, yes I'm a Leo how did you guess? As beasts of sensuality, we must always have a list of tickles at the ready. Here's is my present list of divine pleasures for the senses.
1. For the ears: Janelle Monae
Like the aesthetics of design, when I find something I like, I eat it up like a bad boyfriend. You just can't get enough and then, like most things we obsess on, we OD and move on. Janelle Monae is an exception, like Prince, I will never tire of this "boyfriend." She feels like a combination of James Brown, Prince, André 3000 with a dash of Björk and a sprinkle of something you've never heard or seen before.
In my opinion, she is ever so refreshing, ever so American and the album, Arch Android…flat out epic.
2. For the eyes: Poufs by Donna Wilson
Design Milk, I must say, you have excellent taste, as I see you have already spotlit these amazing poufs by Donna Wilson. The Frank pouffe in red Zig Zag has sent me into a tailspin. There is something so folky, indigenous but almost culturally vague about them at the same time that makes me really excited. It could be Nordic, Native American, or Middle Eastern…more please.
3. For the fingers: Matteo Home
There is nothing more lovely to the touch then beautifully crafted linens. I think Matteo Home is brilliant with their subtlety. The Folk Duvet Cover is made from vintage linen inspired from one of my homelands (Norway), it is timeless as is the wool Fireside Throw (above). I like a bed to feel familiar, luxurious but worn to impossible softness and looking like it's been hanging in the sun on your grandma's laundry line for 80 years…sigh.
4. For the mouth: Fran's Chocolates
I don't even like candy! My best friend took me out one afternoon to refuel. These grey & smoked salt caramels could be one of the most perfect moments in life, I can't really say anything more other than you owe your mouth this pleasure.

Photo: dalbera, Flickr
5. For the nose: Musée du Quai Branly
Maybe it's because I grew up in the arctic that is Minneapolis, or maybe it's the generic architectural landscaping we're covering our country with but I'm mad for a living wall. What a beautiful, textural and sensually divine application to our concrete jungles. Patrick Blancs vertical garden at the Musée du Quai Branly in Paris has one of the most extraordinary living walls I've ever had the pleasure of indulging in.

Design From Around The Web