New York-based designer Jonas Damon takes a hybrid approach to his work. By day, he's Creative Director at frog, where he and his team help the world's leading companies, such as GE, Intel, Comcast, and TouchTunes bring innovative products and experiences to market. In his spare time, he collaborates with small manufacturers such as Areaware and Roll & Hill on highly personal and experimental objects. Take, for instance, his witty analog iPhone, iPod, and iPad docks, which not only reference but also elegantly romanticize old-school alarm clocks and the bulky TV sets of decades past.
Damon's two roles might seem to represent opposite ends of the design industry, but at their core, they converge. In either context, whether targeting mass-market or niche audiences, or acting as an inventive or an artistic influence, Damon seeks to inspire people as they are go about their everyday activities, chores, or work. At frog, he and his team focus on a user-centered philosophy to design, tapping into the company's research to generate market insights. The goal is to improve how people interact with products and create opportunities for clients. For his independent projects, Damon mines resonant cultural memories to create emotional connections between objects and their users. No matter what design role he's engaged in, Damon says that each practice informs the other. After all, they are both about creating meaning.
1. NASAblad by Tom Sachs
I find the raw, energetic quality of Tom Sachs' work incredibly inspiring and refreshing – he creates the most visually, structurally, and culturally rich work without the slick polish that is so pervasive in art and design these days.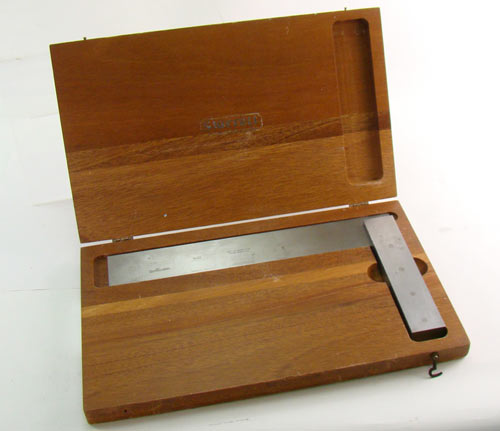 2. Starrett toolmakers grade stainless steel square No. 3020 series
I was issued my first one for the Intro to Metals class at RISD. Twenty years and a few rusty fingerprints later I still use it whenever I build a model. Its minimal, precise form perfectly embodies its sole function: creating clean, accurate 90-degree angles.
3. Braun AB1 alarm clock by Dietrich Lubs and Dieter Rams
Design perfection. Everything about it is right: degree of expression, accessibility, build quality, size. It has just been reissued (why was it ever discontinued?) and I just ordered myself a new one a day ago. Everyone should have one.
4. Surprise artifacts from my daughter
Everyday I discover a different little treat in my pockets or laptop bag: random artifacts from my 4-year old daughter, left unwittingly but without fail, every day. The most wonderful pick-me-up in day filled otherwise with the business of design.
5. Wallse
My favorite restaurant in New York City. Kurt Guttenbrunner's "Modern interpretation of classical Viennese cuisine," in a beautiful space filled with artwork from Julian Schnabel's personal collection. My wedding reception, anniversaries, and many birthdays have been celebrated here.