In the first post in this series, we talked with artist Brian Yap about how iPad Adobe mobile apps have transformed the way he draws and creates. In the second installment of our three-part series, we find out more about how his artwork is influenced by things he sees around him, and how he's able to capture the things that inspire him and apply them to his illustrations. Brian is still in the process of creating a book cover for the Hunchback of Notre Dame by Victor Hugo as part of a crowdsourcing project called Rock, Paper, Books, and here we find him adding more detail to the sketch. Here's Brian:
Now that the main part of the drawing is done, its time to start pulling the illustration together using some more advanced combos and tricks I've developed or learned along the way. To finish the drawing, I want to add a pattern to the cape that stretches out on both sides of the Hunchback, as well as lay the groundwork for some intricate design in the background.
I'm going to use a combination of apps to create a customized, stamp-able vector texture. And, hopefully do it in a way that illustrates how there really are no rules when it comes to how you use artists' tools, as long as the results work for you.
First, I made a series of shape captures in Adobe Capture CC on my phone. I go to junk and antique stores a lot—they're treasure troves of inspiration. In Adobe Capture you can use the camera to isolate an image and "capture" the raw lights and darks of the image, and create a vector shape. It works very similar to Live Trace in Adobe Illustrator CC. However, Adobe Capture goes with you everywhere since it's a phone app, so you can play with the settings as you find the subject. I found a few old metal pieces and plenty of old book graphics to use to create the effect I wanted.
Once in Adobe Capture, the first thing to do is to create a new library. You can always move assets around later, but if you're on the hunt for pieces for a specific project, it's good to start organizing from the beginning. I named this one Hunchback.
I'm all for diving right in and working bits and pieces into place, but for something like a fabric pattern, it always seem to work better to plan it out a bit.
The idea is to use the repeatable brush that I created in Adobe Photoshop Sketch to then create a more complex and intricate image. Then, I'll use that image to make another vector stamp, perfectly fitting the design. This process makes me think back to all those times I used copiers to make band flyers. I always loved to copy, collage and copy again to get the best effect and the right composition.
I made a handy video to show you exactly how I did it, and there are more step-by-step instructional notes in the video description:
Hunchback Adobe Capture steps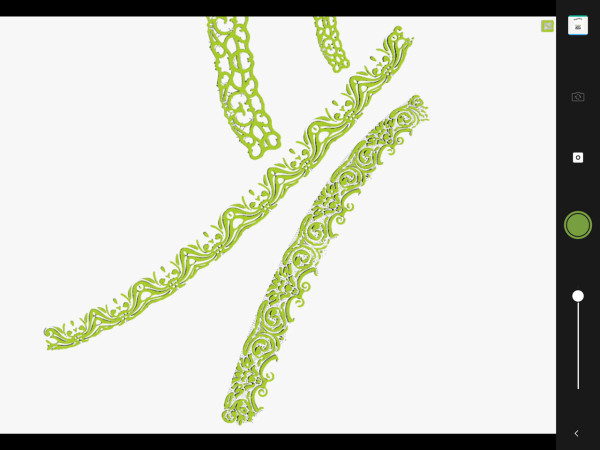 Once I have these custom vector shapes, I can go back into Adobe Illustrator Draw and stamp the patterns into a new layer.
Hunchback Adobe Draw Stamp Process
Now it's time to work a bit with color. While capturing shapes, I also had my eye out for some interesting color combinations. The color section of Adobe Capture allows you to take any image and create a color theme of 5 colors, that's accessible anywhere you can access your libraries. You can create them live using the in-app camera; pull them from an existing photo in your image library or assets saved in your Creative Cloud files.
Like I mentioned in the first article, I work dark to light. The layers in Adobe Draw help make that possible and super easy. I created a new layer and reordered my layers so that the lights are under the dark line work. Depending on what my plan and timeline is for a given illustration, I don't worry about the colors being exact until the end. I almost always draw in black to begin with, but often times don't end up using black in the finished piece—ultimately, I will play with a variety of shades until I'm happy with the color combination.
Here's a video of the coloring process including how to make the color themes in Adobe Capture:
Working down like this allows me to be pretty loose as I color the piece in Adobe Draw, so it goes a lot faster.
For me, this workflow has not only made me faster, it has helped me work in a way that encourages exploration and experimentation. I'm less afraid to scratch all or parts of a drawing if it isn't working and just try out a variation on another layers. Same goes for color, since I can work with layers, I can replicate a color layer and use the long press fill try out different colors, or just wait until I bring the pieces into Adobe Illustrator. Sometimes its just about finding the right tone and hues while I'm working and other times the whole piece can completely come together on the iPad.
Once I feel as though the illustration is in a good place, I can send it to Adobe Illustrator using the "Send to Illustrator" export feature. If you're on the same network, it will actually open Illustrator and the file on your desktop. Crazy.
In the next post, I'll reveal the final piece and talk about how all of these different mobile workflows come together in Illustrator on my desktop. I'll also share a time lapse of the lettering using a sketch I created on the tablet, drawn over in Illustrator. Along with that process, you'll be able to see how a lot of what I've created is also accessible on your desktop, in the Creative Cloud Library window within Illustrator.
If you want a glimpse at a few more tutorials of this and similar workflows you can check here or follow me on Behance.
You can download and play with these and other assets I'll created for this project by downloading my Creative Cloud Hunchback Library here.
Stay tuned! See Adobe's full family of mobile apps.