Brooklyn transplant, new Portland, Oregon resident and designer Will Holmes is originally from beautiful North Yorkshire, UK. He has worked with brands like AT&T, Jamie Oliver, Squarespace and BBH London doing illustration and typography. When he's not working, he's "eating as much food as Portland can serve up, and being taught how to fish by my mother-in-law," as well as attempting to garden. I've had my eye on his lettering and illustration work and we at Design Milk thought it would be a cool project for Will to show off his skills and try out Adobe's new Shape app in the process. The result is a graphic design Deconstruction of sorts, ending with a fun, downloadable desktop and iPad/iPhone wallpaper. And what better quote to illustrate than one about typography!
If you've ever wanted to see hand-drawn type come to life, here's how Will makes it happen (in his own words):
I began by sketching for a few days, redrawing a quote by Shawn Lukas again and again until it started to take shape. I spent hours writing it out, refining the design with every pass.
Sometimes you just need to take a five-minute break and write profanities.
I prefer to draw on velum or tracing paper so I can draw over the top of previous passes, taking the bits I like and redrawing the ones I don't. For this project, I was using brush pens to create lettering with nice thicks and thins.
I finally arrive at a composition that I'm happy with. It's not perfect, but at this stage it doesn't have to be.
I captured the drawing using the Adobe Shape app, which was very easy to use and connect to my Creative Cloud Library.
Because of the immense amount of detail, it was easier to capture it in pieces and then piece it back together like a super simple jigsaw. I made vectors of sections of the lettering in the Shape app and saved them to my Creative Cloud Libraries.
The images I captured in the Adobe Shape app appeared in the Libraries section of my Illustrator CC. I redrew some of the letterforms with tidier béziers, tweaked the composition, fiddled with the smaller details, etc. and when I was happy with it, I brought it into Adobe Photoshop to add a little non-vector charm. Nothing too drastic, just enough to remove the sometimes-too-harsh lines.
Using the vectors from Shape as a base, I created one simple stroke letters of the whole design.
I assign thicknesses to those strokes, using the vectors from the app to denote how thick and thin they should be. Using Illustrator, I can more precisely correct any spacing problems that I didn't notice when I was drawing the letters by hand.
I make sure all my bezier curves are "correct".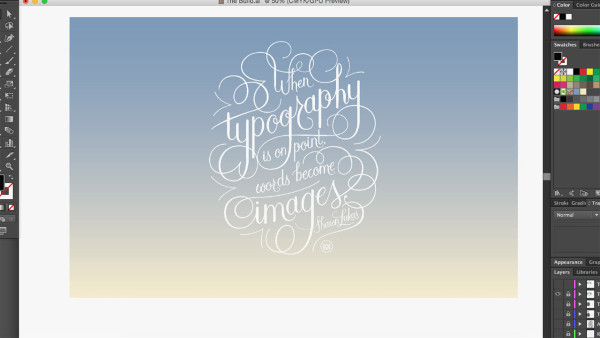 Then I apply color…
and a little texture…
And the piece is complete!
Lucky for you, we've got a variety of sizes of Will's design for you to download:
1280×800 \\\ 1440×900 \\\ 1680×1050 \\\ 1920×1200 \\\ 2560×1440 \\\ 3840×2400
BONUS: iPhone 5 \\\ iPhone 6 \\\ iPhone 6 Plus \\\ iPad
Thanks for sharing your process, Will! You can download the Adobe Shape app here and watch a tutorial here. Also, there are more awesome Designer Desktops right this way.