FUTURA LABORATORIES Makes a Mark Upon Dr. Martens Iconic 1460 Boots
FUTURA LABORATORIES Makes a Mark Upon Dr. Martens Iconic 1460 Boots
1/9 Photos
2/9 Photos
3/9 Photos
4/9 Photos
5/9 Photos
6/9 Photos
7/9 Photos
8/9 Photos
9/9 Photos
In a case of two worlds colliding, a certain degree of delight is likely to be felt for anyone who grew up loving hip-hop and punk with the announcement of the collaboration between design studio FUTURA LABORATORIES and heritage boot maker Dr. Martens – a partnership represented by a pair of 8-hole boots combining the distinctive styles born from the streets of London and New York.
FUTURA LABORATORIES is the namesake of one of, if not the most, renown NYC graffiti artists of all time, an artist whose "eclectic body of work" is described as  "transcend(ing) generations." That's no hyperbole. Starting from his pioneering work emblazoned across train cars in 1970s Manhattan, to his backdrops for The Clash, artwork for music supergroup U.N.K.L.E., and recently with his collection with Comme des Garçons, the 65-year old artist's imprint across art and fashion is indisputable.
Similar can be said about Dr. Martens, a boot maker whose history spans ever further back and has remained associated with the working class street culture that came to international prominence with the punk movement from the other side of the pond.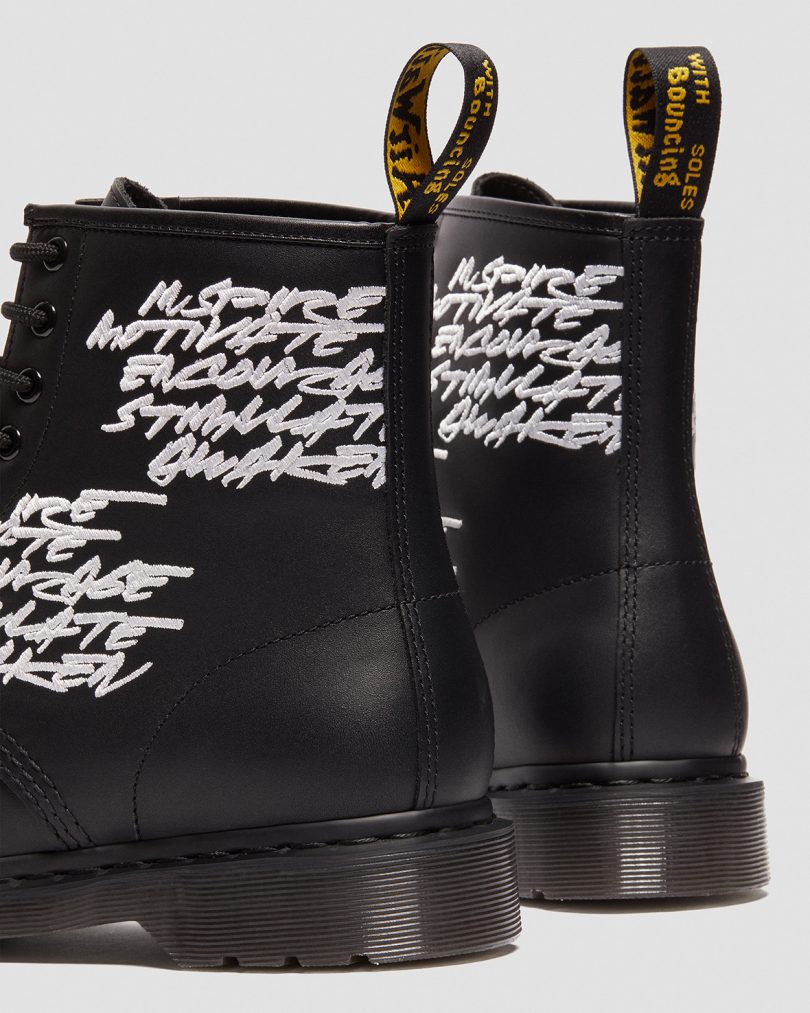 The partnership between Dr. Martens x FUTURA LABORATORIES takes the iconic punk footwear of choice – the 1460 boot — and uses the leather backdrop as a canvas for Futura's distinctive hand lettering manifested in embroidered detail.
The second boot style adopts the 1460 in militaristic fashion, done in an olive woven fabric embellished with a leather ankle strap​ and dual flat and round olive laces.
"When I arrived in London in 1981 it was the first time I'd been to Europe. I was inspired by the fashion and music of the Brit punk movement. It was cool – dark, utilitarian, working class. I could relate to that."
– Futura
Both Dr. Martens x FUTURA LABORATORIES Black and Olive 1460 boots are available in limited quantity $230.00 and $310.00 respectively at drmartens.com and select partners.