Jessica Rosenkrantz and Jesse Louis-Rosenberg, AKA Nervous System, are back with a new project that makes me want to say, in my best Monty Python impression, "and now for something completely different." Leave it to Nervous System to completely re-imagine the jigsaw puzzle and marry it to their nature-meets-science method. The whole process is fascinating – keep reading…
Each of these puzzles is completely unique from each piece to the beautiful artwork design, by Jonathan McCabe. Using their custom software to simulate crystal growth, the interlocking puzzle design is created and then their laser cutting machine creates a one-of-a-kind wooden puzzle based on the design.
Their software is designed to simulate dendritic solidification, a crystal growth process that resembles snowflakes formation. It's fascination – read more about it here. The entire puzzle is made right in their Massachusetts studio from the design to printing the artwork and attaching it to the wood.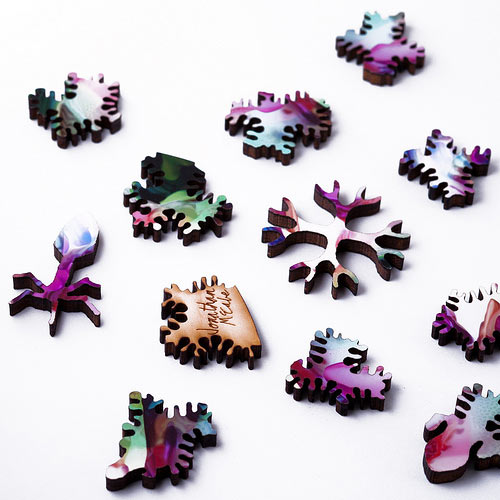 The puzzles are available in two sizes: a round 7.5″ puzzle with 85 pieces and a rectangular 18×12″ puzzle with 410 pieces (this one kind of looks like quite an endeavor!). No two are alike.
Watching the video that Nervous System about this project not only gives me hope, but also the chills: