Outdoor furniture sets are increasingly being used not just for outdoor barbecues, but for casual get togethers, cocktail parties and other social events. Naturally, this has led to increased focus on high-end solutions for delivering quality music to make the party complete.
Many outdoor space owners have in mind the image of those ugly green camouflage loud speakers and believe that is all they could chose from. But don't give up just yet! The reality is designers and technology are providing new very desirable options.
Here are three options I love because they prove design is the art of combining the functional with the aesthetic.
Designed by Francesco Rota, Ibiza from Oluce is a collection of indoor and outdoor wall and floor fixtures. Perfect for parties, they provide diffused and direct light through their polyethylene diffuser. The fabulous news is that these innovative models are available with an optional loud speaker which works thanks to a dedicated wire connecting it to the hi-fi system.
Another brand proving proof new alternatives are out there is Viteo. The Austrian brand with high end designs and perfect finishes have two great designs developed with the support of sound specialists.
Both of these speakers are designed with NACSound to offer a great experience, answering the specific issues of outdoor sound control. Unlike what has been on the market until now, these are actually also beautiful design objects!
The hand-finished loudspeaker Zemi, which was designed by Elizabeth Frolet & Francesco Pellisari, is made of glazed ceramic.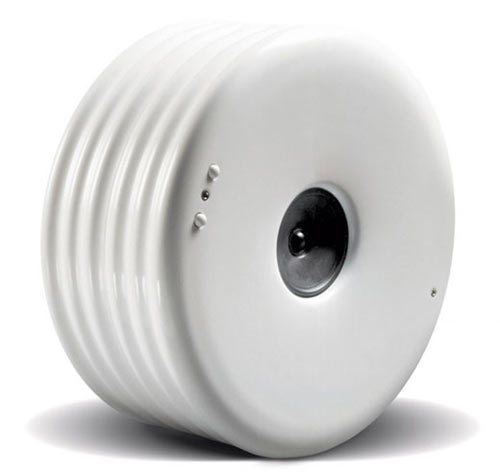 Their other model is Freewheeler, designed by Ron Arad & Francesco Pellisari. Made of lacquered wood, it is wireless so it can be positioned anywhere without missing a beat. The downside is this baby is a little steep in price, maybe about $15,000 over my budget…

Design From Around The Web